Steve proposes to Leanne not once, but twice, reveals Corrie's Jane Danson!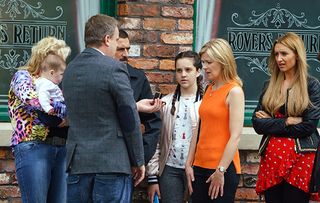 (Image credit: Mark Bruce)
Leanne Battersby got drunk and had Steve McDonald's baby. Now she's got drunk again and agreed to marry him! Jane Danson talks about the mess she's got herself in
Leanne Battersby shouldn't drink. She has Steve McDonald's baby because of a night of drinking with him in Coronation Street. Now, after a night on the booze with Steve, she wakes up engaged to him!
"It was definitely the drink that made her agree and she's mortified when she wakes up the next day and realises what she's done," Jane Danson told Soaplife. And while she's working out what to do next, Steve proposes again!
Why doesn't Leanne tell Steve straight away that she didn't mean to say 'yes'? "She doesn't really know what to do. Eva and Toyah tell her she must to do something so she sends Steve [Simon Gregson] a text saying they need to talk – but in doing so she potentially makes things worse!"
Can you talk us through Steve's second proposal? "He dresses Oliver in a babygro with the words, 'Will you marry my daddy?' on it. It happens in the middle of the street, just as she is about to reject Steve's first proposal, so she is really put on the spot."
How does she feel about him using Oliver to propose? "She feels as though it is a little bit of emotional blackmail. He knows she wants a proper family life for Oliver so he has used the one thing that might strike a chord with her. She is quite horrified to find herself in this situation - in the middle of the street with everyone watching. The father of her child is proposing to her – how can she say 'no' in front of everyone?"
Has Leanne ever considered Steve as husband material? "Not really. OK, they had their drunken one-night stand, but other than that they've just been mates for years. You would have thought if something romantic was going to happen between them, it would have done so some time ago. Having said this, Steve and Leanne possibly could make a good couple if they sat down and talked about their feelings. But there isn't much of a spark between them and is it possible to have a real relationship without that?"
Should Leanne marry Steve? "No! I would certainly advise her against marrying. It's bound to end badly."
Coronation Street, ITV
Get the latest updates, reviews and unmissable series to watch and more!
Thank you for signing up to Whattowatch. You will receive a verification email shortly.
There was a problem. Please refresh the page and try again.