Corrie's Tina O'Brien: 'Sarah feels she hasn't protected Bethany and has failed as a mother'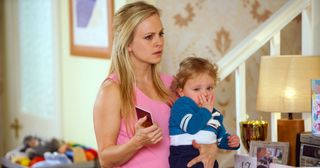 (Image credit: Mark Bruce)
Now Sarah knows the truth about abuser Nathan Curtis and his sex ring, she is desperate to rescue her daughter from his clutches! Will she succeed? Tina O'Brien reveals all…
Sarah Platt always suspected Nathan Curtis was a nasty piece of work. But discovering just how hideous he is has been worse than she ever imagined.
"Sarah's heartbroken, especially as deep down she always instinctively felt the relationship wasn't right," Corrie actress Tina O'Brien tells Soaplife. "But she pushed that to one side because she didn't want to lose Bethany." Now Sarah's desperate to save her daughter…
What's Sarah's initial plan to fix this situation? "Sarah's at a loss about what to do, this is not a black and white situation. Sarah and Gary try to get through the reality of things to Bethany."
Does she listen? "No. She won't listen to them. She keeps defending Nathan's actions as she's so blinded by what she thinks is love. It's frustrating and terrifying for Sarah to see her daughter this way."
What happens when policeman Neil comes to the house? "At this point, Sarah thinks Bethany and Nathan have split, so she's pleased Bethany looks like she is finally opening up to someone when Neil comes to the house. She's not suspicious because Neil's in police uniform."
How does Sarah react when she finds Bethany looking for her passport? "It completely throws her. She was so relieved when it looked like Bethany was making a breakthrough, so she has no idea where this sudden change in her has come from."
Can you talk us through the scene where Sarah finds Bethany about to self-harm? "Audrey spots the burn mark on Bethany's arm and tries to comfort her, saying that Nathan will soon be a distant memory. But later Sarah finds Bethany trying to burn her other arm with a cigarette as she thinks she has let Nathan down. It then dawns on Sarah just how deep Nathan has drawn Bethany into his web."
Does she blame herself? "Definitely. She feels she hasn't protected Bethany and she's failed as a mother."
Get the What to Watch Newsletter
The latest updates, reviews and unmissable series to watch and more!