Will Kevin kiss and tell on Sally? Corrie star Michael Le Vell reveals all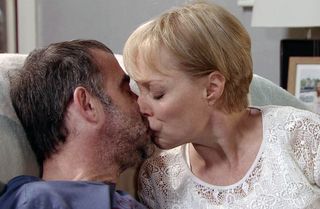 Coronation Street (opens in new tab)'s Kevin is stunned and feels guilty when his ex-wife, Sally, kisses him, Michael Le Vell tells Soaplife.
Kevin Webster's delighted that his ex-wife Sally is now engaged to his new best mate, Tim, so he's in shock when, out of the blue, she kisses him. "It happens after Kevin's agreed to help Sally try and buy Underworld," Michael (opens in new tab) says. "But passion is the last thing on his mind."
Sally's impressed by Kevin's business expansion. Does he realise this?
"Of course. She's always liked Kevin in a suit. Sally's always aspired to better herself or to be with a more successful man, so I think it comes as a bit of a shock for Sally [Sally Dynevor (opens in new tab)] to see Kevin in this new light."
She's certainly made clear she wishes Tim was more successful...
"Yeah, she rubs his nose in it, all right. Kevin's laughed about it, saying to Tim, 'She's your problem now'. Kevin's turned into the man Sally always wanted him to be and now she's putting pressure on Tim to be more ambitious and successful. You've got to feel a bit sorry for Tim [Joe Duttine (opens in new tab)]."
How does Kevin feel about Sally?
"They were together for a long time, but Kevin's happy with the way things are now. He thinks Sally and Tim make a great couple, plus he's got a new best mate in Tim."
So he doesn't encourage Sally's kiss?
"For a second he responds, but he very quickly realises it's wrong. Sally's mortified by what she's done and he knows, deep down, she didn't mean it – it was a spur of the moment thing and didn't mean anything. They were married for 20 years but that doesn't make it OK. They're both full of remorse – even though it was Sally who pounced not Kevin."
They agree to keep the kiss a secret. Will it get out?
"I'm sure it will! I'm not sure how, but Sophie [Brooke Vincent (opens in new tab)] is quite suspicious. If Tim finds out, he's not going to be happy and the wedding may be in jeopardy. Tim would be left doubting Sally's true motives for marrying him. It would bring out a lot of insecurities in Tim."
Should Sally be with Kevin or Tim?
"Tim! But when I'm out and about, I get the most comments about the Kevin and Tim 'bromance'. The viewers really seem to like it."
Coronation Street (opens in new tab), ITV.
Get the latest updates, reviews and unmissable series to watch and more!
Thank you for signing up to Whattowatch. You will receive a verification email shortly.
There was a problem. Please refresh the page and try again.