David takes a deadly revenge in Corrie?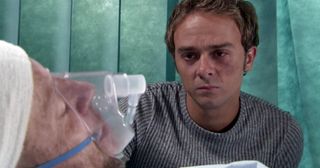 David Platt is prime suspect when Kylie's killer Macca ends up in a coma after an attack on Coronation Street
After Macca is attacked and left seriously injured, David's the prime suspect in Coronation Street… But that's only after he survives a nasty attack near the Dog & Gun himself...
Macca's in hospital with a serious head injury. Is David responsible?
At the beginning of the week, David agrees to go to the grief counsellor, but refuses to say a word
When David finds out there's a party for Clayton at the Dog and Gun, he storms down there to spoil the fun, but is soon stopped by a mystery figure
Furious that Macca is still having fun after Kylie's murder, David wants revenge, but he's the one getting punished
Just who is responsible for his beating?
David is dealt with by the thug
He's left bloody and bruised...
And eventually passes out
Later, the police arrive at No 8 and arrest David after posters of Clayton appear around the Street
Is he guilty of perverting the course of justice?
And when the police later reveal that Macca was viciously attacked and is in hospital, the finger is firmly pointed at David
David is released and sets off for the hospital determined to have his revenge…
Will he be successful this time? Watch Coronation Street on ITV from Monday, October 3
Get the What to Watch Newsletter
The latest updates, reviews and unmissable series to watch and more!