John Marquez: 'Having Sigourney Weaver on Doc Martin is wonderful!'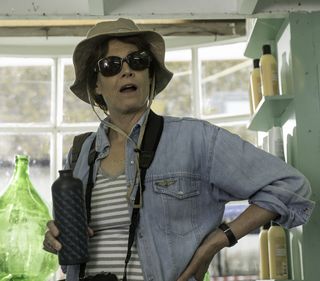 Eyebrows were raised when Alien star Sigourney Weaver was rumoured to be appearing in Cornish comedy Doc Martin. But, despite the odds, the rumour turned out to be true and we can watch the Hollywood superstar in a madcap episode tonight (ITV, October 26)!
It's also a big episode for Pc Penhale, who has a life-changing decision to make when he's paid an unexpected visit by Inspector Salter (Little Britain's Steve Furst), who's come to offer him a new job in Exeter…
Speaking about having both Sigourney Weaver and comedian Steve Furst on the show, John Marquez, who plays Penhale, said: "Having Alien star Sigourney Weaver on the show is wonderful! I also do a few scenes with Steve Furst, who I've admired for years.
"I can't say if Penhale will stay in Portwenn. He asks everyone what he should do - but most people don't care! Doc Martin and Bert are particularly harsh to him."
While Penhale runs around Portwenn trying to make up his mind, Sigourney Weaver plays an American tourist determined to get medication without a prescription."
The episode also stars Gemma Jones (Spooks) and Kelly Adams (Hustle) and airs on ITV on Monday, October 26 at 9pm.
For the full story of Sigourney's arrival in Portwenn, read our interview with Selina Cadell here
Get the latest updates, reviews and unmissable series to watch and more!
Thank you for signing up to Whattowatch. You will receive a verification email shortly.
There was a problem. Please refresh the page and try again.