Downton's Rob James-Collier: 'I hate watching series one and two now – I was terrible!'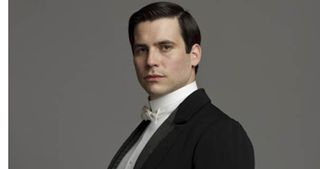 His dastardly scheming, his sulky demeanour and his litany of sins have all made Downton Abbey's Thomas Barrow a classic TV villain. But, though it pains us to say it, we've started to feel rather sorry for the stroppy underbutler, played to perfection by Rob James-Collier. (opens in new tab)
Thomas is in deeper turmoil as he fears losing his job amid staffing cuts at the Abbey, but he just can't find a suitable new position.
TV Times caught (opens in new tab) up with Rob to find out more.
Thomas becomes even more desperate and isolated over the coming episodes...
"He already has a bad reputation and nobody likes him so he has been paranoid it's going to be him that has to leave and that he'll have nowhere to go. He gets more paranoid, bitter and resentful towards everyone because he thinks they're alienating him ,but he's also alienating himself and eventually he gets to a place where he's unreachable. He was close to the edge last series, but now he goes lower than ever."
All this angst is leading up to dramatic climax for Thomas, but will he get the happy ending that even the most hard-hearted of viewers wants for him?
"He's never fully resolved who he is as a person in terms of his sexuality, but we find out finally, for good or bad, whether he'll ever be happy and accept himself."
"I'm chuffed and privileged that Julian Fellowes has written it for me. 'I hope you're ready to play the tragic hero, darling.'"
But will he have a sad ending or get through to the other side?
"He has been whipped so much by the society that condemns him, he just lashes out. Thomas is not a one-dimensional villain. He likes the children because they don't judge him and he'll help someone like Andy who is vulnerable because he feels like that as a gay man.
"He can also show dignity. My favourite scene, apart from getting to waltz with Dame Maggie, was in series three when Carson called him 'foul'. Thomas said, 'I may not be like you but I am not foul'. For the first time he had the moral high ground."
Are you amazed at how fans have taken to your divisive character?
"I was expecting to be fighting in supermarkets, but because people love Downton, you're part of that brand, whether you're hero or villain, so the reaction has always been lovely. I've even had letters from American teenagers who haven't come out, but who relate to Thomas and say that he gives them confidence.
"It's moving and humbling when your work resonates with people in other countries. That's better than any Bafta accolade and it makes you want to get it right on screen for them."
Has portraying Thomas helped you develop as an actor?
"Playing a character that is so down tests you but hopefully I've passed the tests as Julian keeps writing them in for me! I was only supposed to be in the first series, but I ended up refining the character over six years and getting better.
"I hate watching series one and two now, I was terrible, but by series five I wasn't too bad. When you are opposite people like Jim Carter, you can only progress as an actor and hone your skills."
After working so close with your co-stars, what was it like filming the final scenes on Downton this summer?
"As the end got nearer and characters and storylines were being tied nicely together, it started to dawn on me, 'This is going to stop soon.'
"A lot of the downstairs gang had our last scenes together at Ealing Studios and it was emotional and quite a special moment. It's like the end of an era."
Downton Abbey continues on Sunday evenings on ITV.
Get the latest updates, reviews and unmissable series to watch and more!
Thank you for signing up to Whattowatch. You will receive a verification email shortly.
There was a problem. Please refresh the page and try again.