Home Fires' Samantha Bond: 'Frances would be at the front door with a gun if the Germans invaded!'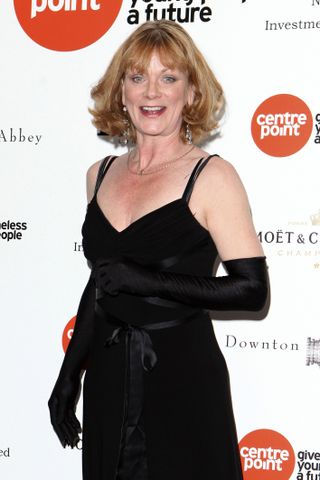 (Image credit: DPA/Press Association Images)
The final episode of Home Fires is set to go out with a bang – not least because bickering sisters, Frances and Sarah, decide they need to learn to shoot!
Samantha Bond reveals she's terrified of guns, but the shooting on Home Fires wasn't as frenzied as she'd feared…
Speaking of the gun scenes, Downton Abbey star Samantha Bond revealed: "I'm terrified of them. Very frightened. I've used hand guns on stage a couple of times and I did a series called NCS Manhunt with David Suchet, which involved a lot of gun action, and I hated doing the scenes involving guns!
"But for some reason it all seemed a lot calmer in Home Fires, set at a time when women feared they might be the last line of defence in the event of a Nazi invasion."
What's on TV can reveal that when we catch up with residents of Great Paxton for the final instalment of ITV's hit wartime drama, sisters Frances (Bond) and Sarah (Ruth Gemmell) have decided to learn how to shoot. With the war going badly and France having been invaded by Nazi Germany, the pair are convinced Adolf Hitler has his sights set on Britain next. And Frances in particular wants to be ready to do her bit to protect their homes!
Samantha explained: "The village is near an air base and Liverpool is a major target for the Germans. So it's all very real to Frances. She's the person who would be at the front door holding the gun if the Germans invaded!"
The finale will also see Home Fires' other big stories reach interesting conclusions. Exhausted from living a double life doing the dirty work of war traitors, timid bookkeeper Alison Scotlock decides to commit suicide.
Meanwhile, the younger members of the Campbell family come to terms with Doctor Will's cancer diagnosis. But it remains to be seen whether there's any light at the end of the tunnel for abused housewife Pat Simms, played by Claire Rushbrook.
ITV recently announced they've recommissioned Home Fires for a second series, following its consistent ratings success.
For more, read our interviews with Claire Rushbrook, Samantha Bond and Francesca Annis.
Get the latest updates, reviews and unmissable series to watch and more!
Thank you for signing up to Whattowatch. You will receive a verification email shortly.
There was a problem. Please refresh the page and try again.