Amira could return to EastEnders, reveals Preeya Kalidas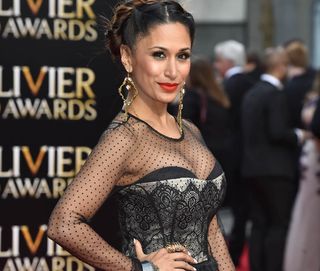 (Image credit: Empics Entertainment)
Preeya Kalidas discusses returning to EastEnders (opens in new tab) with Masood's other grandchild and gives Soaplife the lowdown on her new West End role!
Syed and Amira Masood and Christian Clarke made up one of the greatest EastEnders love triangles of all time, exploring issues surrounding race, cultural differences and homosexuality as well as infidelity. Syed (Marc Elliot (opens in new tab)) and Christian (John Partridge (opens in new tab)) became a couple and, heartbroken, Amira fled Walford. She briefly returned two years later, in 2012, with her and Syed's daughter, Yasmin, and attempted to get back with her ex… But that failed so she left for good to start a new life. Or did she?
According to Amira actress Preeya Kalidas (opens in new tab), Amira could be on her way back to Walford.
"Well, she's not dead, is she!" laughs Preeya, as she talks to Soaplife shortly before she went on stage in the new West End show, Bend It Like Beckham: The Musical (opens in new tab).
"She's supposed to be living in Birmingham with her little girl. The decision to bring her back obviously rests with EastEnders (opens in new tab) boss Dominic Treadwell-Collins (opens in new tab), but I think Amira could return, yes. I had a fab time on the show and it was an honour to be part of such an iconic storyline. It can't happen for a while, though. I'm busy, busy, busy with Bend it Like Beckham: The Musical for the forseeable future."
You were in the movie version of Bend it Like Beckham, weren't you?
"I was. I played Monica, a friend of Jess's, the wannabe footballer in the story. In the musical, I'm playing Pinky, Jess's wedding-obsessed, fun-loving sister. It's a great part and I get to have an engagement party and a full-blown Indian wedding on stage every night!"
You must get to wear some amazing costumes!
"Oh, they're incredible. We worked closely with a very famous Indian dress designer, who made the dresses with Pinky's character very much in mind. I wear the most fabulous wedding dress and, even better, I haven't had to pay for it! Pinky's not constantly dressed up, though. You do get to see her in ordinary clothes when she's shopping for the wedding. As a west London girl myself, I know lots of girls like Pinky."
How does the movie compare to the stage musical?
"It's the same story as the film, but there are some fantastic musical numbers woven in that have been beautifully orchestrated and written by some of the best in the business. It's a nice amalgamation of Punjabi music fused with West End and pop musical influence."
Do you have any big numbers?
"At my wedding, I do. But there's another song I particularly love. Pinky and Jess's dad sings a song called People Like Us, which is so beautifully written and poignant. It's about our parents, who have come to this country to make a better life for themselves, and I can't listen to it without crying."
Do you enjoy performing before a live audience?
"There's nothing quite like it. You get such an adrenalin rush performing live on a stage. I like doing TV and film, but the theatre's magical because you get to see, hear and feel the responses of your audience straight away."
How do you keep your energy levels up for eight performances a week?
"You kind of get carried along with the feel-good factor of it all. In terms of energy, you get into a routine and, obviously, I do lots of exercise because of all the dancing. It's important to eat healthily and make sure you relax on your day off. That's when I go home to my mum's for lots of lovely food."
Is it easy to move between television, films and theatre?
"I sing professionally, too, and feel very fortunate that I'm able to diversify my creativity in all areas of the entertainment industry. It keeps me stimulated and I also don't believe you should be pigeon-holed."
Will Mr Beckham (opens in new tab) himself be coming to see the show?
"Apparently - but none of us know when exactly. It's probably a good idea we don't know because we'd all get over-excited. We have our own David Beckham in the show, but it would be great to get the real one up on stage, too!"
Get the latest updates, reviews and unmissable series to watch and more!
Thank you for signing up to Whattowatch. You will receive a verification email shortly.
There was a problem. Please refresh the page and try again.