Could EastEnders' newcomer Annie Pritchard be the daughter of Mary the Punk?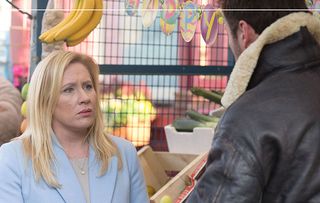 Do the maths... it all adds up to Annie being the daughter of EastEnders legend Mary the Punk
Eagle-eyed EastEnders fans have given themselves a pat on the back for spotting that newcomer Annie Pritchard is played by former Horrible Histories favourite, Martha Howe-Douglas - but could Annie be the daughter of Mary the Punk?
Whilst it is pretty surreal that the woman who played Elizabeth I on the popular CBBC show is now playing a gangster in Albert Square, the excitement has led fans to so far overlook a possible connection between Annie and a Walford legend from EastEnders' hey-day...
When the show first hit screens in 1985, one of the most popular characters was Mary Smith, aka Mary the Punk (Linda Davidson), a punk who pitched up with her three month old daughter, Annie, in tow. Mother and child left Walford in 1988 and haven't been seen since, but a quick bit of maths tells you that Annie would now be 33 years old.
Could the raven-haired tot, who was passed from pillar to post, and almost died in a fire when Mary - a character we'd love to see return - left her unattended in a flat, have grown up to become the Annie Pritchard who has been hounding Big Mo for £5,000?
What's interesting is that Mary was name-checked in a recent episode by Sharon Mitchell (Letitia Dean), who commented that step daughter Louise (Tilly Keeper) resembled her former neighbour, as she was wearing so much make-up. Could this be EastEnders' attempt at reminding viewers of Mary the punk's existence, before they drop the bombshell that Annie Pritchard is her off-spring?
Brummie Annie made her debut on the soap last Thursday, when she turned up at the Slater house claiming Mo had swindled her father. The Slaters convinced her that Mo was dead, by getting their dodgy relative to slip into the coffin originally intended for Kat – but when Annie returned to Walford in last night's episode, she realised she'd been conned, and gave Mo a beating.
Of course, we could be way off the mark with this one, and our theory may well turn out to be a load of bolognaise. But then again, it might not…
EastEnders continues on BBC1.
Get the latest updates, reviews and unmissable series to watch and more!
Thank you for signing up to Whattowatch. You will receive a verification email shortly.
There was a problem. Please refresh the page and try again.