Soap characters we'd love to return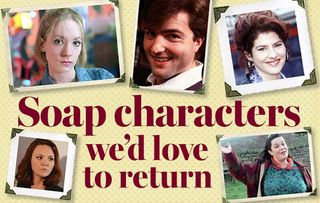 From the moment EastEnders' Michelle Fowler started reminiscing about her old friend, Kelvin Carpenter, rumours have been rife that actor Paul J Medford could be headed back to Albert Square, a whopping 30 years after his alter-ego went off to Uni. But while it would be great to see how clever-clogs Kelvin is faring these days, he's not the only character who needs to get his proverbial backside back to soapland. Here are eight of our fictional favourites who we'd love to see again:
Mandy Dingle, Emmerdale (Lisa Riley)
Mandy left the Dales in disgrace in 2001 after being caught cheating on Paddy. Sixteen years later, and we're at a loss as to why she's never been brought back. It's not like the character wouldn't have a reason to return – afterall, the Dingles are still very much part of village life. And with Paddy around, too, there'd be an instant "Will they or won't they reunite?" storyline to kick off chapter two.
Actress Lisa Riley has always been open to a comeback – "never say never" was her response when pressed on the matter last year. So come on, Emmerdale bosses – you have no excuses!
Becky Granger, Coronation Street (Katherine Kelly)
Do we really need to explain ourselves? Cider-fuelled whirlwind Becky, who was a fixture on Corrie from 2006-2012, was soap gold, thanks to Katherine Kelly's ability to make you laugh one minute and cry the next. So, as much as Becky hoped for a happy ending when she emigrated to Barbados with boyfriend Danny, we want her back on the cobbles - getting drunk, copping off, and having heart-to-hearts with Roy Cropper.
'I've been asked back a lot and I've always been working,' reveals Katherine, 'but I would definitely never turn my back on that show.'
Here's hoping that one day, Katherine will come home…
Denise Osbourne, Coronation Street (Denise Black)
Now that Emmerdale has killed off Joanie Dingle, actress Denise Black is free to return to her original soap home in Weatherfield, where she played hairdresser Denise Osbourne from 1992-1997 (and also made a guest appearance in 2007). And with 0n-screen son Daniel (Rob Mallard), back on the cobbles, could there be a better time for a re-appearance? Apart from anything, Denise needs to explain why she walked out on her only son when he was 15.
Corrie producer Kate Oates gave little away when we recently asked her if Denise will return, and would only say that we'll "have to keep on watching." Still, that's not a "no", is it?
Janine Butcher, EastEnders (Charlie Brooks)
A good soap opera needs good stories – and if super bitch Janine Butcher were to return to EastEnders, the residents of Walford would have a lot more to worry about than their bin collections. It would only be a matter of time before she'd make some poor soul's life a misery, and we reckon her and Max Branning would make a dynamite couple.
Unfortunately, the odds of this happening are low to non-existent. 'As much as I love the show and it's fantastic, I have to move on from that,' says actress Charlie Brooks. 'So I'm doing theatre, and edging my way out.'
Boo!!!
Zoe Tattersall, Coronation Street (Joanne Froggatt)
Though Downton Abbey star Joanne looks right at home on those Hollywood red carpets, we'd love her to come back to where her glittering career all began – well, sort of began. From 1997 – 1998, she was brilliant as Corrie's vulnerable teenage mum, Zoe Tattersall, which was only her second job in television.
You may recall that poor Zoe lost her baby girl to meningitis, then left Weatherfield with dodgy duo Ben and Ruth from the 'Cult of Nirab.' Nineteen years later, has she managed to break free and find her own path in life, or is she still being brainwashed and selling new-age crystals?
Mary Smith, EastEnders (Linda Davidson)
We'd love to know what became of Mary the punk, who left Walford on a bus in 1988 (well, she couldn't afford a black cab). The character would be about 50 years old now and, given her chaotic lifestyle, there'd be plenty of scope for storylines – we can see her on the run from some dodgy ex, whom she owes money to. And let's not forget Mary's daughter, Annie. The raven-haired tot would be in her early thirties now.
Linda Davidson, who played Mary, now works as a freelance contractor in Media Operations (no, we're not sure what that is either, but it sounds very important). But everyone deserves a sabbatical, right?
David and Simon Wicks, EastEnders (Michael French and Nick Berry)
We're so greedy, aren't we? We don't want just one Wicks in Walford, we want the full set!
Michael French has always lit up the screen as lothario David, who was last in Walford in 2014 when he split up from on/off lover Carol Jackson. Quite frankly, he could spend every episode sat on 'Arfur's bench' and he'd still be more interesting than many of the characters currently in the show.
David's fictional brother, Simon, left Walford in 1990, though popped back for a fleeting visit in 2012, when he laid flowers on mum Pat's grave. What we wouldn't give to have the pair of them sharing a flat together. In fact, it'd make a great spin-off show – "Middle Aged Men Behaving Badly."
Alison Slade has over 20 years of experience as a TV journalist and has spent the vast majority of that time as Soap Editor of TV Times magazine.
She is passionate about the ability of soaps to change the world by presenting important, issue-based stories about real people in a relatable way.
There are few soap actors that she hasn't interviewed over the years, and her expertise in the genre means she has been called upon as a judge numerous times for The British Soap Awards and the BAFTA TV Awards.
When she is not writing about soaps, watching soaps, or interviewing people who are in soaps, she loves going to the theatre, taking a long walk or pottering about at home, obsessing over Farrow and Ball paint.
Thank you for signing up to Whattowatch. You will receive a verification email shortly.
There was a problem. Please refresh the page and try again.