Bonnie Langford: 'EastEnders is so exciting! I went from farce to Greek tragedy in half an hour'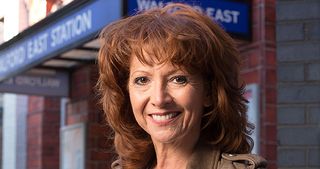 (Image credit: BBC/Jack Barnes)
Bonnie Langford (opens in new tab) tells TV Times how her new role as Carmel Kazemi in EastEnders (opens in new tab) has taken her completely by surprise and her she battles her natural shyness by putting on a performance...
What were your thoughts when offered the role to appear in EastEnders?
"I did wonder why they were calling me, EastEnders had never really been on my radar. I feel very fortunate, as they have presented me with this character who has so many facets. I had no idea what she was going to be like when I first went in for a read-through, but I loved her from the moment I saw what was on the page. My whole career has been like that – doing things I hadn't expected."
What do you like about Carmel?
"They've made her fun, given her a great sense of humour and at the same time, she shows a lot of strength and sensitivity."
She's just moved in with son Kush and his fiance, Shabnam. Is the house a bit too crowded?
"It makes life difficult for them. I can't say much, but there are some big moments coming up for Carmel. Some of the stuff we filmed recently was really raw and, oh my gosh, there's a massive twist."
Her lips are sealed about upcoming storylines...
"I don't even know what's coming up! It's very exciting. The other day I went from doing what felt like a Ray Cooney farce to a Greek tragedy in half an hour. When I got home I sat there like a complete zombie."
You've also appeared in Doctor Who, as his companion Mel Bush in 1986. How was that?
"Doctor Who was similar to EastEnders in that I just wanted to blend in and be accepted as my character. You are literally thrown in at the deep end and just hope that what you do works. I felt a certain amount of responsibility with Doctor Who as it was in a very bad place at the time, and about to be axed."
Your career in showbiz first started with you appearing on and winning Opportunity Knocks. What are your memories of that time?
"I was just six years' old, and my father took me to the Thames Television studios to take part in the talent show. My father took a cine-film of the television, but the video in my brain is quite clear. I loved it. I couldn't understand why all these other people were nervous. Hughie Green the host was delightful to me and I felt completely and utterly at home."
Having been in showbiz for some 45 years you're probably use to all the glitz and glamour?
"I am quite a shy person, I find certain situations quite difficult. When I get invited to things, I find it all a bit overwhelming. I have to put on a 'performance' and then I think, "Oh my God, I must look so naff, what am I doing here?"
This was your first year at the British Soap Awards. What was the experience like for you?
"I found it so bizarre. I was thinking, 'Why am I here?' I wasn't on screen in EastEnders at the time and it was the last place people expected to see me. But that's what I love about this job. You hope there's something exciting and brilliant around the corner – and then this happened!"
Get the latest updates, reviews and unmissable series to watch and more!
Thank you for signing up to Whattowatch. You will receive a verification email shortly.
There was a problem. Please refresh the page and try again.