EastEnders' Diane Parish: 'Sleeping with Phil is Diane's turning point. She can't get any lower'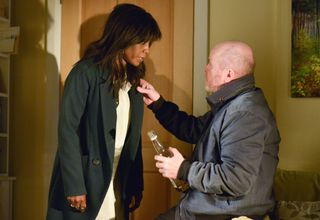 Denise clashes with pregnant daughter Libby in EastEnders, then she ends up in bed with sworn enemy Phil! Soaplife talks to Diane Parish about the surprise development…
Denise isn't happy, is she?
"No, she's not in a good place right now. JJ was her chance to have a family again and a purpose in life. She's missing him."
Then Libby tells her she's pregnant…
"It's a huge shock, but she's like 'Yes!' and she's running around with excitement and wants to celebrate."
Until Libby says she isn't keeping the baby…
"Denise can't comprehend the idea that Libby [Belinda Owusu] wants to get rid of the baby. But she's old enough and wise enough to know that things always turn out right in the end. She's convinced that if Libby has this baby, she won't regret it."
So Denise likes the idea of being a grandmother?
"Yes. She desperately wants to be a grandma, but she also doesn't want Libby to make a decision she may regret."
How does this lead to her arguing with Carmel?
"Denise is arguing with everybody! Carmel [Bonnie Langford] offers an opinion on the baby that is different to hers, so she goes for her. Carmel's only trying to help, but Denise doesn't see it like that."
We can understand that. But Denise and Phil!?
"Denise and Phil end up at The Albert and they're both in a similar state of inebriation. Denise is as drunk as she can get. The thing is, she hates Phil, but she enjoys prodding and poking at him. She also enjoys seeing him at his worst, because it just confirms everything she thinks about him."
So, how do they end up in bed?
"You'll have to wait and see! But I was thinking to myself, 'How could Denise let herself end up with him when Sharon [Letitia Dean] and Shirley [Linda Henry] have turned him down?'"
Is it a case of two people feeling low?
"They're both at their lowest ebb and they have family problems. There's a sense of loss and hopelessness and a feeling of what's the point? That's why they drink the way they do. I'm sure there are a lot of people out there who find themselves in those positions and wake up and go, 'Oh God... I didn't!' This is one of those moments."
What was it like acting those scenes?
"It was fun and it was really fascinating. Steve McFadden, who plays Phil, is one of the best actors in the soap. I loved working with him. It's nice to do something completely different."
Will this be a wake-up call for Denise?
"Oh, yes. Most people reach a turning point and this is hers. It's that thing of thinking, 'What is my life about?' It's about time she tried to fix herself. She hasn't had much in the way of anything good. I'm hoping she builds up from here."
What would you like her to do in the future?
"I'm ready for her to have a sense of purpose in the Square, to be a bit more self-made and less reliant on other people."
We loved Denise and Fatboy…
"I loved that, too. It was a lovely thing to do and there was something really special between Denise and Fatboy [Ricky Norwood]."
So you're still loving your job?
"I've been on EastEnders for 10 years and the job keeps evolving. There are ebbs and flows, because the cast and everything changes, and there are always new things to get excited about. I respect the show and I'm still having fun!"
EastEnders, BBC1
Get the What to Watch Newsletter
The latest updates, reviews and unmissable series to watch and more!