EastEnders' Rakhee Thakrar: 'Shabnam is devastated. All she wants to do is hold her baby'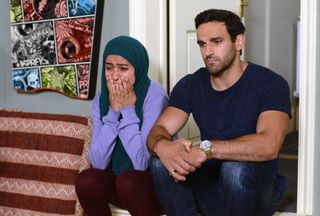 Shabnam's shattered by the loss of her baby in a heartbreaking EastEnders storyline, Rakhee Thakrar explains to Soaplife...
Tragedy has struck engaged couple Shabnam Masood and Kush Kazemi, as their unborn baby has died. "The loss of the baby is such a huge thing to come to terms with," says Rakhee (opens in new tab).
"Shabnam is overwhelmed and numb. Then things happen so quickly because, in the very same minute, she's also told it's in her best interests to deliver the baby naturally. The thought of still having to go through labour seems unthinkable…"
Does Shabnam feel guilty?
"Yes. It was her body and, even though it isn't her fault, she feels she's to blame. There's also anger. Her world has stopped, yet people are still smiling, laughing, going to work, carrying on with their lives… She wants to scream at them all to stop. The sadness is devastating. All she wants to do is hold her baby."
Can Shabnam and Kush recover from this?
"Kush and Shabnam's relationship will be tested beyond all limits. Grief can be very isolating and everyone handles it in their own unique way."
How will Shabnam handle her grief?
"Shabnam's trademark coping mechanism is to shut everyone out. This will inevitably cause problems with Kush. I hope they can recover. They're a special couple who make it feel like things that seem impossible can be possible."
How did you react when you heard about this storyline?
"My first reaction was sadness. It's hard not be moved. I then started to realise I was actually going to have to play this and the responsibility of telling this story truthfully started to become very clear."
Did you do much research?
"I did an immense amount of research. I felt a duty to do as much as I could. I started with Sands (opens in new tab), the stillbirth and neonatal death charity. Erica Stewart, Sands' Bereavement Support Manager, has been a huge part of this and was always on the end of the phone for any questions I had."
What's it been like working with everyone on this story?
"Working with Nitin [Ganatra (opens in new tab), who plays Masood] and Davood [Ghadami (opens in new tab), Kush] was special. We shared some moments in scenes that we'll never forget. The biggest support, though, came from Erica at Sands. Her endless willingness to help was invaluable."
EastEnders (opens in new tab), BBC1.
Get the latest updates, reviews and unmissable series to watch and more!
Thank you for signing up to Whattowatch. You will receive a verification email shortly.
There was a problem. Please refresh the page and try again.