EastEnders' Rakhee Thakrar: 'Shabnam's need to protect Jade kicks in like a lioness'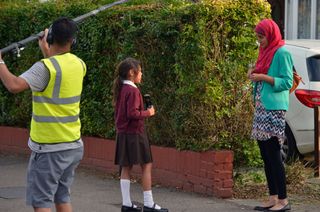 EastEnders (opens in new tab)' Rakhee Thakrar explains to Soaplife why Shabnam feels the need to protect daughter Jade.
Since the heartbreak of giving birth to her stillborn son, Shabnam's maternal instincts have kicked in and, while she swore she wanted nothing to do with her daughter Jade by Dean Wicks, she's now had a change of heart.
"Her need to protect her daughter kicks in like a lioness," says Rakhee (opens in new tab). "It feels like a veil has been lifted from her eyes."
Why does Shabnam want Jade back now?
"She sees Jade going to visit Dean [Matt Di Angelo (opens in new tab)] and she panics. Shabnam doesn't think Jade is safe with the Carters. Now, she feels as if she can see what's important in life and what can go wrong in the world. She's desperate to protect Jade."
What does the social worker, Fiona, think about Shabnam's desire to look after Jade?
"When Shabnam talks to her, she doesn't reveal she lost a baby. When Kush [Davood Ghadami (opens in new tab)] finds out what she's done, he goes behind her back and explains to the social worker. Shabnam thinks it was Dean who spoke to her and she feels guilty for not mentioning Zaair. But her instinct to protect Jade is so strong that she just wants to prove to Fiona that she's a suitable parent."
But Fiona tells her it's too soon to consider letting her have Jade…
"And Shabnam's upset, but she likes to deal with things privately, so she buries her pain. What she's going to learn now is she can't use her old methods of coping. They won't work."
Does Kush confess that he told Fiona?
"He has to admit it was him when Shabnam storms over to Blades to confront Dean. Dean's angry at her, insults fly and his words cut deep."
What makes her go and see Jade?
"She's drawn there by all these maternal feelings that are overpowering her. Jade [Amaya Edward (opens in new tab)] isn't a replacement for Zaair. I think she would have felt like this eventually."
Will Shabnam forge a close relationship with Jade?
"I hope so, but what we see is the start of a long journey for Shabnam as she figures out what's best for her daughter. There's a lengthy process in getting residency for a child, particularly with Jade's cystic fibrosis."
EastEnders (opens in new tab), BBC1
Get the latest updates, reviews and unmissable series to watch and more!
Thank you for signing up to Whattowatch. You will receive a verification email shortly.
There was a problem. Please refresh the page and try again.