EastEnders: Tina Carter character was originally 'fat, 50 and past it'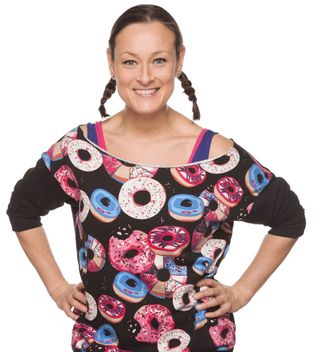 (Image credit: BBC/Nicky Johnston)
EastEnders' Tina Carter has colourful street style - and scrubs up a treat in a frock - but show bosses conceived a very different image for her.
The soap's producers changed their ideas, though, after auditioning Luisa Bradshaw-White (opens in new tab).
"The character they'd devised was really fat, 50 and past it," reveals Luisa. "I turned up for my audition looking pretty and wearing his heels and said: 'Look, I don't look anything like the part, but I wondered if you could find me another one'," Luisa told the Sun. "They laughed and then changed the character."
That was a wise move as loveable lesbian Tina is fast becoming one of the most popular characters in Albert Square.
Discussing EastEnders' portrayal of gay and lesbian characters, Luisa continued: "EastEnders is showing real life. That's why I said I'd do the show, because Dominic Treadwell-Collins (opens in new tab) was creating a character in Tina that has a lot to her and she's gay.
"Not just, 'That's the Asian one, that's the lesbian one'…. That's what I think the other shows are still doing. We've got to move forward. There has to be a story. You can't just be gay. And there is a lot more to Tina."
Luisa, 39, would be happy to stick around on EastEnders for a good while, too.
"Dominic has talked about Dot Branning when he's mentioned me being in the show for a long time. That's a long time, but I do really love the job. Plus, the EastEnders studios aren't far from where we live and I'm a lazy actor," adds Luisa.
But she's not interested in being famous.
"Years ago, people in EastEnders were very, very famous and I never wanted that. But now you've got all the reality TV stars taking that place so actors can just get on with doing their job," Luisa says.
"'Of course, if you want to be a celebrity you can, but when it comes to walking down the red carpet, there's a whole generation of EastEnders stars younger than me who can do that.
"I can just be like a mum. The pressure to be beautiful is off me. I feel at ease as I'm not trying to be somebody I don't think I've ever been."
Luisa - who joined the soap last year - also revealed that she "can't let go" of her role as a parent and partner.
"I've got a partner, Annette, and we've been together 15 years.
"I was a stay-at-home mum for eight years and now Annette's taken a year out for the [two] girls.
"But I can't let go of that role - I get home and still try to control everything."
Tina's current storyline sees her planning to start a family with girlfriend Tosh (Rebecca Scroggs (opens in new tab)). But their plans are about to fall apart when Tina's sideline in hash brownies at the cafe is exposed…
EastEnders (opens in new tab), BBC1, Monday, July 21, 8.00pm.
Thank you for signing up to Whattowatch. You will receive a verification email shortly.
There was a problem. Please refresh the page and try again.