Ex-EastEnder Martin Kemp, aka Steve Owen, stars in Chicago!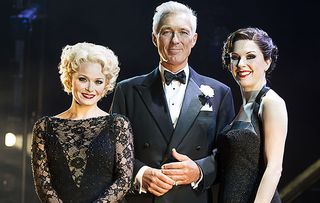 (Image credit: ©Tristram Kenton)
Steve Owen was tragically killed off in EastEnders… But actor-singer Martin Kemp is alive and kicking on stage in London's West End!
Legendary nightclub owner Steve Owen may be gone from EastEnders but he's definitely not forgotten. His wife Mel and son Hunter are now back in Albert Square while Martin Kemp, the singer and actor who played him, is starring on stage in London's West End…
What's the story?
"I'm appearing in the musical Chicago in the West End," Martin tells Soaplife.  "I'm really excited about it. Chicago is America's longest running musical and a truly iconic show. It's become a tourist destination in itself."
What's happening in EastEnders? See the latest soap storylines
Actor Martin Kemp's chat with Soaplife about his new role starring in Chicago!
Soaplife: Who are you playing in Chicago?
Martin Kemp: "The character of Billy Flynn. He's the lawyer trying to get one of the girls off a murder charge and was played by Richard Gere in the movie. I've taken over from Cuba Gooding Junior in this production and those are big shoes to fill as he was brilliant. It's a fantastic role and so wonderful that I get to perform some of Chicago's legendary songs on stage. I reckon Chicago has the best songs of any musical."
S: Weren't you originally up for playing the role 10 years ago?
MK: "Yeah but I couldn't do it due to other commitments. I was so disappointed and it played on my mind – it was the one that got away, if you like. Every time I'd go into the West End and I saw the show sign, I'd think, 'I should be doing that'. Now I am and so it's extra special."
S: What's Billy like?
MK: "Funnily enough he reminds me a bit of Steve Owen who I played in EastEnders quite a few years ago now. He's brash, he's flash, he's a big character - just like Steve was."
S: Does appearing live on stage make you nervous?
MK: "It always gets the adrenalin going - that happens when you do anything live in front of an audience. It's really exciting, too, though."
S: Speaking of appearing live, do you have any Spandau Ballet gigs coming up?
MK: "We do actually. We're playing at the legendary Hammersmith Apollo in October. We've got a new singer - a guy called Ross William Wild whose voice makes the hairs of the back of your neck stand up. He played Elvis in the show Million Dollar Quartet - a show I was in, too. I thought then he had something really special. Playing with Spandau is like the best hobby anyone could have in the world. I get to have fun with my old mates and be a rock star again! "
S: Which do you prefer – acting or performing as a musician?
MK: "I love it all. To me, it's all in a kind of bubble called entertainment. I look at it like it's painting a picture – sometimes I might use oils, water colours or charcoal. It's all entertainment but in different modes."
Martin Kemp is starring as Billy Flynn in Chicago at The Phoenix Theatre in London's West End until Saturday 1st September
Get the latest updates, reviews and unmissable series to watch and more!
Thank you for signing up to Whattowatch. You will receive a verification email shortly.
There was a problem. Please refresh the page and try again.