EastEnders' Jenna Russell: 'Michelle can't get any lower, but hopefully we can build her up, get to know her out of crisis mode'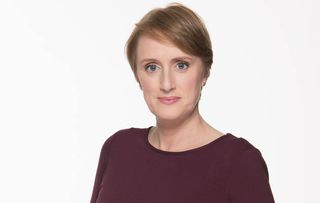 (Image credit: BBC/Kieron McCarron)
Jenna Russell reflects on her EastEnders character Michelle Fowler's woes and whether things will ever improve for her
Michelle Fowler's return to Albert Square has been unhappy from day one, culminating in last week's dreadful drink-driving incident. As she lies injured in hospital, Sharon reveals that she's been in contact with Preston, while brother Martin obstinately refuses to visit her...
EastEnders actress Jenna Russell talks about Michelle's latest trauma and whether things will ever look up for her...
Michelle learns in tonight's episode (Monday) that Sharon lied to Preston about Michelle's feelings towards him? How does this make Michelle feel? "Michelle is a proud woman and she feels that it's none of Sharon's business and that she shouldn't have handled it the way she did. Again, Michelle isn't taking responsibility by saying she was wrong. She should say straight up 'thank you, because I've been trying to make him leave for weeks'. Instead, she says it wasn't Sharon's job, that she was getting round to it and it wasn't down to her.
"The only person who has stood by her through this situation is Sharon and she's come back and handled it brilliantly. Sharon is the only person who knows the absolute truth. Michelle is too ashamed and embarrassed right now to apologise to the people she's hurt.
"She has to make things up to everyone, to Martin, Bex, Ian, Louise, Phil, little Dennis. There are a lot of people she's hurt."
How is the future looking for Michelle now? "It's interesting, she's not a new character, she's a much-loved character from the past. I think it's hard for Michelle to get the audience's sympathy at this point. I realised once I'd joined the cast officially, my first big storyline is not something you necessarily side with her on. Ultimately Michelle can't get any lower, so hopefully we can build her up and get to know her a bit out of crisis mode and know her as a woman, as the woman she is now, 20 years on from when we last saw her.
"I'm hoping that things for her are calm for a little while, and that she makes good on her errors of judgement and how badly she's handled things.
"It's really exciting and that's one of the great things about doing a show like this, you have no idea what's in store for you. It's not like someone takes you into a room and says for the next six months this is what you're going to do, or an eight-part drama where you see the scripts and you know the arc of the character. With this it's an absolute unknown, and that's scary, but also very exciting because you don't know what's around the corner."
Get the latest updates, reviews and unmissable series to watch and more!
Thank you for signing up to Whattowatch. You will receive a verification email shortly.
There was a problem. Please refresh the page and try again.