Ex EastEnders star Lindsey Coulson: 'It's been lovely stepping back'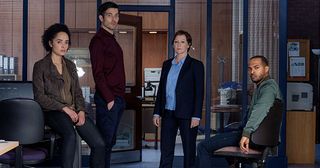 Ex-EastEnders actor Lindsey Coulson discusses her new role as a street-smart detective and how it couldn't be more different from Carol Jackson…
Ex EastEnders actor Lindsey Coulson tells Soaplife about her new role as a street-smart detective in new ITV crime drama, The Level (premiered Friday, September 30).
What are you up to, Lindsey? "I'm appearing in The Level, a new crime drama series on ITV. It's a cracking good story told over six episodes."
What attracted you to it? "I liked the fact the women were very central to the plot. It felt very positive. It's good there are more women in the centre of these dramas now."
Who are you playing? "DCI Michelle Newman, who's a middle-management police officer in charge of a murder investigation and its budget. So murder's her business. It's her responsibility to make this inquiry work and she has to get a result."
So she's up against it? "Yes. But she's worked her way up through the ranks and the only reason she's stayed as a DCI is that she still likes to be hands-on in investigations."
She sounds formidable! "She is. She doesn't do emotion, which is good for me. One of the things I didn't want to do for a while is all that emotion because I've done years of it."
Did you speak to any real-life detectives? "I met and spoke with some people when I played a detective constable in the drama series M.I.T: Murder Investigation Team and I spent time with a murder squad. They're constantly watching and reading people. Much of how we read people is body language. That's where Michelle is sharp. She notices things that others might not and she spots when something isn't quite right."
Mobile phones play a part in the drama. Do you worry that people today are addicted to their screens? "Every night I'd go to bed reading a newspaper app on my phone, reading people's opinions and so on. So then you've got maybe 12 people in your head that you go to sleep with. Then in the morning, I was getting up and doing the same with rolling news. But I've stopped doing that. I've started reading books again and I feel really calm."
What's next for you? "After having worked constantly for six years, what's been lovely is stepping back. I'm not as desperate to do loads of stuff. Jumping off a long-running show like EastEnders, you go, 'Can I do this or this? Something new?' Then you say, 'Yes I can.' Life always presents other wonderful opportunities and challenges. Change is good."
Get the latest updates, reviews and unmissable series to watch and more!
Thank you for signing up to Whattowatch. You will receive a verification email shortly.
There was a problem. Please refresh the page and try again.