Ex-EastEnders star Lindsey Coulson on her new role as a top cop!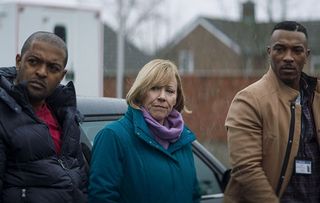 Lindsey Coulson has left Carol Jackson and Albert Square far behind to play a police boss in Sky One's action series Bulletproof…
Ex-EastEnders star Lindsey Coulson tells Soaplife about playing a cop for her new tv role…
What's the story?
Lindsey Coulson has been in big demand since leaving EastEnders behind. Now she's back on TV in Sky One's police action series Bulletproof. "I have played a few policewomen in my career and really enjoyed it, so I thought it would be fun to do it again," Lindsey tells Soaplife…
What's happening in EastEnders? See the latest soap storylines
Former EastEnders star Lindsey Coulson talks to Soaplife about her new TV role…
Soaplife: What attracted you to the role of Lead Officer Sarah Tanner in police action series Bulletproof?
Lindsey Coulson: "I liked the scripts and especially how the two male leads – police officers Bishop and Pike (pictured below) - interacted and the humour between them. Plus, I get to tell them what to do because I am the boss! Bulletproof is great, action-packed entertainment. It's not just a macho cop show. It has some very strong female characters, too."
S: Tell us a bit about your character?
LC: "Sarah Tanner joined the police force from school and she's worked her way up the ladder. She's good at her job – she's earned her place as Branch Commander and she's great at it. She is a tough cookie when she wants to be and she speaks her mind, but she's fair and firm. She treats her team with warmth and respect."
S: How would you describe her relationship with Bishop and Pike?
LC: "They have a good working relationship. She has to have strong boundaries to keep them in line, though."
S: Alongside all the action, the show digs into themes of family and friendship. How does Tanner fit into that?
LC: "Tanner has worked with the boys for a long time and trusts them implicitly and, although she doesn't always show it, their friendship means a lot to her. As a manager, she cares about her team's wellbeing."
S: The show's got a great cast. Did you enjoy working with them?
LC: "I did, and it was a real treat to work with Clarke Peters, who plays Pike Snr in Bulletproof and who was in The Wire. I have admired his work for a long time. London and its cultural diversity also play a big part in the story."
S: Were there any memorable moments during filming?
LC: "Yes, eating lots of chocolate in loads of scenes and giggling with Clarke Peters."
S: You were, of course, in EastEnders for 913 episodes in all – can you imagine Sarah Tanner working with Bishop and Pike for that long?
LC: "No! Her nerves wouldn't survive it. I loved my time on Eastenders. It was very hard to leave because I loved the people. I was getting paid well, but something inside me said, 'You've got to go – it's time to move'. EastEnders is all-consuming and it's lovely when you're in there, being consumed by that, but when you come off the wheel, you have to catch your breath."
Get the What to Watch Newsletter
The latest updates, reviews and unmissable series to watch and more!