Martin Kemp: I have so much to thank George Michael for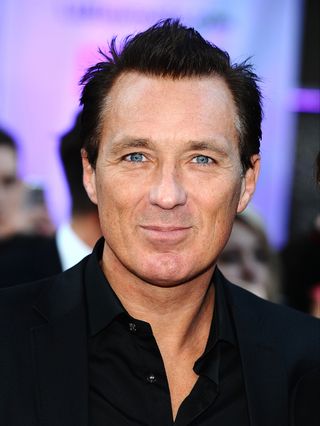 Martin Kemp has revealed that there is one man for whom he has many reasons to be grateful - George Michael.
The Spandau Ballet star told Piers Morgan that the ex Wham! singer has played a crucial role in his life.
Not only did George get Martin and his wife Shirlie together, he also helped seek out the radiation therapy that zapped away Martin's life threatening brain tumour.
And Martin says on ITV show Piers Morgan's Life Stories that George also suggested Martin for his role in EastEnders.
Shirlie Holliman was a backing singer for Wham! when George brought the pair together, beginning one of the most successful marriages in showbusiness.
"Every time I used to see him (Martin), I'd think, 'Oh my god, he's so good looking'," Shirlie revealed.
"I was at my friend George Michael's house and he was saying, 'you really ought to phone him'. He dialled the number and handed the phone to me and the rest is history."
Martin and Shirlie married in St Lucia in 1988 and went on to have two children, daughter Harley Moon and son Roman.
Martin also told how, later in the marriage, he underwent an eight-hour critical operation when he discovered he had a brain tumour the size of a grapefruit.
It was during the operation that another tumour was found in the middle of his brain.
Martin told the show: "Shirlie went off, with George Michael, and they found this professor and he said to me, 'they haven't tried it before but there's a machine in Barts [hospital] called stereotactic radiation where they zap it from all different angles'.
"They'd only tried it on cancer patients and never on a benign tumour so they didn't know if it was going to work.
"I went there and within 20 minutes of being zapped, the thing started to die. So it was a lot of stress and a lot of worry, but I'd finally reached the end of it."
Martin continued: "You always know there's a possibility part of it might want to pop back and start growing again."
On a lighter note, Martin said he also had George to thank for getting him into EastEnders.
Martin, who played Steve Owen in the soap, said: "He suggested me. He was up at the square (Albert Square) a few weeks before they asked to see me and he said, 'You should look at Martin Kemp, he'll be good for this'."
He added: "He's a special person, George. He's been a good friend to us for years... I remember the first date that Shirlie and I ever went on.
"George came as a chaperone. I spent the whole evening trying to lose him so that me and Shirlie could sneak off somewhere and snog. He's a special person and he always will be."
Piers Morgan's Life Stories: Martin Kemp is broadcast on ITV at 9pm on January 31.
Get the latest updates, reviews and unmissable series to watch and more!
Thank you for signing up to Whattowatch. You will receive a verification email shortly.
There was a problem. Please refresh the page and try again.