Former EastEnders regular Nick Bailey, aka Dr Trueman, on why he's reaching out to sufferers of PTSD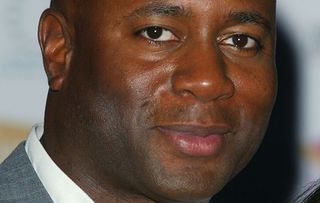 (Image credit: Doug Peters/EMPICS Entertainment)
EastEnders' onetime medic Dr Trueman, aka actor Nick Bailey reveals why his new play is helping army veterans and why he'd love to drop into Albert Square.
Actor Nick Bailey once looked after the health and welfare of Albert Square as EastEnders' Dr Trueman. His new one man show, Walter Tull: Hero Remembered, commemorates the life of Walter Tull, one of the first mixed-race professional football players and a First World War hero who was left with PTSD. Nick has talked to Soaplife about the play, which is in association with Forces charity Combat Stress.
Nick Bailey - who played Dr Trueman in EastEnders - chats with Soaplife
Soaplife: What can you tell us about your new play?
Nick Bailey: "It's based on Walter's life. He played for Tottenham Hotspur from 1909-1911, then for Northampton Town. He was subject to lots of vicious, racist abuse. He was also a true hero."
S: In what way?
NB: "When World War One broke out in 1914, Walter signed up to become a soldier straight away. He became the first ever serving Officer in the British Army who was black. He fought in the Battle of the Somme in 1916 and he developed shell shock – or Post Traumatic Stress Disorder as it's known today. Very bravely, he returned to the field, but he was tragically killed in battle. This year marks the centenary of his death and I feel it's very important to mark this while also reaching out to sufferers of PTSD today."
S: This, presumably, is where Combat Stress come in…
NB: "Yes. Combat Stress is the UK's leading charity for veteran mental health. For almost a century, they've helped former servicemen and women deal with issues like trauma, anxiety, depression and post-traumatic stress disorder. Today, in 2018, they provide support to veterans from every service and every conflict. But we know there are many former service men and women still out there who continue to suffer in silence. We want to reach out to these people and let them know help is out there. For several reasons, black and Asian veterans are less likely to ask for help – and this is another link to Walter."
S: You sound really proud to be doing this.
NB: "That's an understatement. It's an honour to know Walter's story and to be depicting him on his centenary. But, most of all, it's an honour to be part of helping today's PTSD sufferers alongside Combat Stress. That's very humbling."
S: What else are you up to?
NB: "You'll next see me on TV in a new ITV series called White Dragon, which stars John Sim and Emilia Fox."
S: You popped back to Albert Square in 2014? Would you like to drop in again?
NB: "Of course. It would be great to see what Dr Anthony has been up to. I'm still in touch with my screen dad, Rudolf Walker, who plays Patrick Trueman, and also Gary Beadle, who played my brother, Paul. In fact, I only saw Gary the other week at an audition. We were both up for the same role!"
Main pic: Doug Peters/EMPICS Entertainment
Get the latest updates, reviews and unmissable series to watch and more!
Thank you for signing up to Whattowatch. You will receive a verification email shortly.
There was a problem. Please refresh the page and try again.