'I still play tennis!' EastEnders star Rudolph Walker reveals his secret to staying young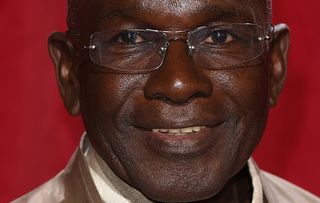 (Image credit: David Fisher/REX/Shutterstock)
EastEnders star Rudolph Walker has talked to Soaplife about his work with his children's drama foundation - as well as his love of sports!
After a long career in acting, veteran soap star Rudolph Walker could be taking things easy. But he's just as busy as ever - not only playing loveable rogue Patrick Trueman - but also heading up the Rudolph Walker Inter-school Drama Awards.
Rudolph first came up with the idea of a school drama competition back in the '70s after visiting two schools in Brixton, south London, who were struggling to keep kids out of trouble. After the schools closed down, the awards fell by the wayside.
"Then a few years ago, I was approached by a guy called Mervin Cato, who works in education in a North London area where there started to have lots of knife crime," Rudolph revealed to Soaplife. "We started the awards up again and they're proving to be just as successful as the originals – if not more so."
Soaplife: What a brilliant idea!
Rudolph Walker: "The students seem to get a lot from it – not just kids who might otherwise be getting into trouble, but also those who are genuinely interested in drama."
S: What happens at the final stages?
RW: "Then we bring in mentors – often professional actors – who the children recognise from TV. This makes them realise that well-known people who they may admire have an interest in them and they want to help them. It boosts their self-esteem. So, it works on two levels."
S: We want details! How do schools enter?
RW: "To start with, they send in a one-minute video, explaining why they want to be in the competition. The panel – which includes myself – looks at all the entries and selects the most promising five or six. The students then, with the help of their teacher and, later, one of our mentors, get to act in and direct a play they've written themselves."
S: Is there place people can get more information?
RW: "Yes. Go to our website www.rwisda.com for all the details. The final takes part at the Theatre Royal Stratford East in London in July."
S: Did anyone help you in a similar way when you were a schoolboy in Trinidad?
RW: "I can't say they did, although I was very interested in drama and performing from a very young age… None of my family were in the business and they tended to laugh when I said I wanted to be an actor! They couldn't understand why I'd want to do that because it wasn't a serious, proper job."
S: You've been playing Patrick Trueman for 17 years now. Are you still enjoying it?
RW: "Very much so. I'd stop if I no longer enjoyed it, as my philosophy of life is only to do things I enjoy… I still look forward to coming to work and I still get the same childlike feeling and excitement I had the first time I walked onto a set, aged 15 or 16. That's a long time ago now!"
S: We can't believe you're in your late 70s, Rudolph! What's your secret?
RW: "Ha! Ha! I really don't know. It must be in the genes, I guess. But I do try and look after myself. I still play tennis and a bit of cricket whenever I can."
S: Do the younger members of the EastEnders' cast ever ask you for advice?
RW: "Yes, but the giving and receiving of advice is a two-way thing that has nothing to do with age. A young member of the company may ask me for advice, but I'm just as likely to ask them. I often ring my daughter and son, and I ask their advice about many things. I also call on my grandchildren aged 12 and 13 and ask them about the internet or to help me with my phone!"
Pics: David Fisher/REX/Shutterstock
Get the latest updates, reviews and unmissable series to watch and more!
Thank you for signing up to Whattowatch. You will receive a verification email shortly.
There was a problem. Please refresh the page and try again.