EastEnders consulted Samaritans for advice on Lee Carter suicide storyline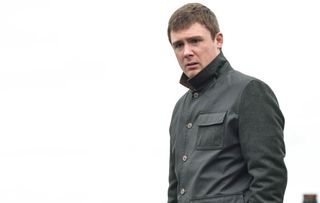 (Image credit: BBC/Jack Barnes)
Lee Carter is a man on the brink. Beset with financial and personal problems, he's contemplating ending his life – and EastEnders were forensic in pursuit of accurately portraying his decline
Writers on EastEnders have taken advice from Samaritans as Lee Carter's increasing load of personal problems leads him to contemplate suicide.
After being driven to the point of desperation with financial troubles – which led to his involvement with the break-in at The Vic and eventual arrest on the show's Christmas Day episode – in Friday's episode he finally asks himself whether his family would be better off without him.
In Thursday's programme, viewers saw Carter, played by Danny-Boy Hatchard, leave a note for his family in his car as the guilt of his actions became too much.
Most recently, he discovered that his wife Whitney, played by Shona McGarty, could be pregnant.
EastEnders writers last year confirmed that the character would soon be written out of the programme.
Danny-Boy said he hoped his role in portraying the sensitive subject would convince others in a similar situation to ask for help.
He told the Press Association: "Of course it is a lot of pressure but I think I'm more honoured than anything, because someone has to do it.
"I think it's become such a common thing, not just people who suffer with mental illness, also people who don't understand it and form a stigma around it.
"I think that kind of drive to abolish that stigma and to encourage people who are suffering to talk and to know that it is okay, the way that they are feeling… It's a responsibility I'm happy to take."
Samaritans spokeswoman Lorna Fraser praised the soap for highlighting the issue of mental health.
She said: "Soaps can do such an amazing job in helping educate the wider public around the issue of mental health problems and how things can escalate.
"Through the character of Lee in his story, what is shown is all of these pressures mount up and it's the cumulative effect of these things that really start to get him down.
"And what has exacerbated that part for Lee, which is a common issue particularly for men, is keeping it to himself, wearing that mask, keeping it a secret, pretending everything is going okay and adding to all of this pressure then is him having to bear all of that by himself."
Danny-Boy said EastEnders should be tackling serious issues such as this as part of major character storylines because it is "more than just an entertainment show".
He said: "We're a show that ultimately wants to have an effect on the public in a positive way, because this is an issue for people of all sexes, of all cultures – middle, upper class – it's an issue that needs to be tackled."
Over the weeks he has been approached by people suffering from depression as well as family members and friends affected or who know someone dealing with it.
"It's important to bring an issue like this to the forefront because I feel like we should be raising as much of a debate as we can," he said.
Lorna Fraser added: "Increasing people's understanding on the issues surrounding suicide, such as the kinds of problems that can lead a person to experience suicidal feelings and encouraging people to seek help, can help generate conversation and for some this can be a lifeline.
"Coverage of suicide, in drama and news, carries an element of risk, therefore it's important that guidance is sought.
"Samaritans has been working with the media for over two decades providing expert advice on this."
Get the latest updates, reviews and unmissable series to watch and more!
Thank you for signing up to Whattowatch. You will receive a verification email shortly.
There was a problem. Please refresh the page and try again.