Why taking on the EastEnders role of Nasty Nick Cotton made John Altman 'bitter'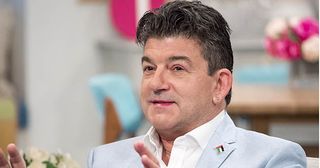 (Image credit: Ken McKay/ITV/REX/Shutterstock)
John Altman, who joined the BBC soap for money, claims it limited his career through typecasting – and says his onscreen ma June Brown sometimes feels the same
While EastEnders' "Nasty" Nick Cotton was raging against the machine – and his long-suffering Ma – behind the tough exterior, actor John Altman was wrestling his own demons.
He has revealed he only joined the BBC1 soap for the money and regretted signing the contract as soon as he read the first script back in 1984.
John admits he has struggled since with resentment, as the role of Nick typecast him for life, "shutting doors" on other acting work.
What's more, he insists he is not alone – it's a regret he claims was shared at times by co-star June Brown, his on-screen mum Dot.
"We both joined EastEnders because we needed the money and security it brought but it has meant that lots of other doors have remained firmly shut to us and career opportunities have been limited," John says in The Mirror.
"I truly believe June could have been a Penelope Keith or a Vanessa Redgrave if she'd had the 'Sliding Doors' moment we used to talk about.
"Signing on the dotted line to play Nick meant that many, many doors shut on me and they have never opened again. It did make me bitter and I struggled a lot.
"But the show paid for my daughter's schooling… there have been a lot of benefits," John adds.
He's clearly conflicted.
A self-trained actor who did theatre and films before EastEnders, John explains he later felt crushed by the snobbery of the acting world.
"Starring in EastEnders was a double-edged sword. You had to learn so quickly, it was good experience as an actor," he says.
"But I later found out there is this awful prejudice in the industry. I heard one casting director say 'I remember John. Good young actor but he went off and did EastEnders so we can't use him'."
Despite his reservations about EastEnders, he was sad to be killed off.
"It came as a bit of a surprise. I mentioned to the producer Dominic Treadwell-Collins 'Wouldyou think of changing your mind?'. But he said no.
When John returned in 2014 he was bemused to be taken to a "portakabin" rather than a dressing room.
"There was no running water, no shower, no toilet," John says. He called his agent to sort it out. "I expect a decent dressing room after 30 years on the show."
John is off it now. He's free. And his plans range from a US TV series (under negotiation, he says) to becoming an MP.
EastEnders, BBC1.
Get the What to Watch Newsletter
The latest updates, reviews and unmissable series to watch and more!