The Taylors hit EastEnders: Find out their arrival date and see more pictures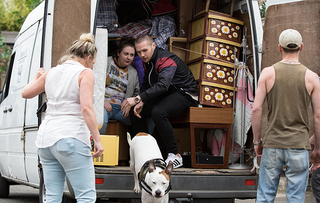 The residents of Albert Square are set to receive a rude awakening as the Taylor family burst onto the scene. Their arrival is imminent...
The Taylor family will burst onto screens on Thursday, June 15 but can anything prepare the residents of Walford for their arrival? The BBC announced the arrival of the Taylor family to EastEnders early last month.
The latest pictures show the family crammed into a van with all of their possessions. As they get ready to move into No. 23 on Albert Square it's fair to assume they've bought a bucket load of drama with them, too.
We already know the Taylor family have a mysterious secret within the family, but who it belongs to and what it is remains to be disclosed.
The arrival of the Taylors is sure to unsettle the square and their neighbours are already rattled. Joyce is unnerved by the Taylors, but will Ted's attempt to calm her fears work? Could it be that the Taylor family know the reason Joyce and Ted have a gun?
A new move is stressful for any family, but the Taylors are certainly under more pressure than most with their arrival not met by a red carpet welcome. These new pictures appear to show Keanu (Danny Walters) and sister Bernadette (Clair Norris) in a heated debate with their mum Karen, played by Call the Midwife star Lorraine Stanley.
Keanu doesn't look happy, but his sister looks non-plussed and pets their dog Bronson. It will take the Taylors a while to settle in and unpack, but their first few days in Albert Square will not be plain sailing.
Danny Walters, best known for his role as Tiger in hit ITV comedy Benidorm, plays man of the family, Keanu. His happy-go-lucky attitude might take a hit as Walford's residents do not welcome his family with open arms. He will be keen to protect his siblings Bernadette and real-life brothers Riley and Chatcham from the backlash of their arrival but how long can he keep tensions from rising?
EastEnders' executive producer Sean O'Connor has described the Taylor family as a "noisy brash" who are "not to be messed with.
Albert Square will never be the same once the Taylor family arrive.
Get the What to Watch Newsletter
The latest updates, reviews and unmissable series to watch and more!