EastEnders' Zack Morris: 'I've got Keegan's cheekiness, but none of the bullying'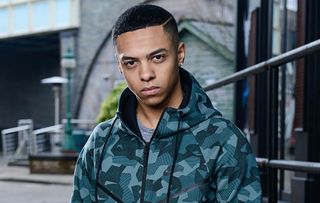 (Image credit: BBC/Kieron McCarron)
Zack Morris, 18, who plays bad boy Keegan in the BBC1 soap, opens up about his real-life school days and reveals how he owes his success to pop star turned TV presenter, Marvin Humes
Every soap needs a villain – and in EastEnders, the baddest baddie on the block right now is schoolboy Keegan Baker. Actor Zack Morris, 18, gives us the low-down on his colourful life, on camera and off...
How would you describe Keegan? "He's cocky, aggressive, and thinks he's the leader of the pack. He also thinks he's a bit bigger than what he is. He's got a lot to say, but can't really back it up. All in all, he's a bit of a dick, really, ain't he?"
Have you met lads like him in real life? "When you're at school, you've always got those sort of characters. I went to a normal comprehensive school, so you do see people like that. I feel like everyone does know a Keegan to some extent."
Do you think the fact you went to a normal school has helped with this role? "Yeah, 100 per cent. I was going to go to a full-time performing arts school, but you don't get the life experiences from it. You wouldn't get someone like Keegan in a place like that, because everyone wants to be there – whereas in a normal, everyday school, a lot of kids don't want to go to go. It's good, as an actor, to people-watch, because you see different characters."
At your own school, did you see the kind of situations that Bex and Shakil have been involved in, with people sending nude pictures? "Yes, that happened about three times. I knew people that did it, and their parents and the police got involved. It's a very serious thing. Sean O'Connor, our executive producer, said that when EastEnders first started, they wanted to show what London was really like, but that was in '85 and a lot has changed. So we're showing what actually goes on today. And in schools now, the situation with the nude photos does happen, and a lot of people get scarred from it."
What were you like at school? "I wasn't extremely naughty and I wasn't extremely good. So, I've got a little bit of Keegan, but none of the bullying and that kind of stuff. I've got his cheekiness. In school, if I thought I was right, then I was right. I'd like to try and get my point across. I had quite a few arguments with teachers!"
Would you like to see Keegan get his comeuppance? "I feel like he needs to, but I think it would take a big character to test him. You need someone who's a big character to put him in his place."
Would you like Keegan's family to come in? "It would be nice, but you've just got to play it by ear. When I first started at EastEnders, I told my parents that it was like working in the CIA. It's so secretive, and we don't get told a lot. We only know what's happening when we get our scripts. I suppose seeing his family would show a different side to him, but it's one of those things where you've just got to see what happens."
You're currently at college (Zack is in his second year of a three-year course at D&B Academy of Performing Arts in Bromley). How are you managing to juggle that with EastEnders? "It can be bit tiring, but it's fine. You never know what's going to happen, so it's good to keep your options open and keep up your training in all areas – we do singing, dancing and acting."
Did anyone famous go to your drama college? "Jacqueline (Jossa, who plays Lauren) went there, and Tilly (Keeper, who plays Louise). Matt Terry went there, who won the X Factor, and Marvin Humes (JLS singer turned TV presenter) went there. He's got a scholarship, which I've got. He picks one person every year to fund, and he funds me. He's really nice, and comes in a couple of times a year to have a chat with me. He's been really supportive."
When did you first decide you wanted to be an actor? "I went to see a show with my mum and her grandad when I was about six, just a local production, and I remember watching it and being like 'Wow, that's really cool; I want to do that!' Then I started going to acting classes and did a local production of Oliver. I've never been amazing at football, so I was like 'Well, let me find something else' and I kind of took to acting and dancing."
What else have you been in, other than EastEnders? "I did Joseph And The Amazing Technicolor Dreamcoat, and the play Cat on a Hot Tin Roof, and I was in Oliver in the West End. And I've done a few TV series – including one for the BBC a few years ago called One Night – and a few comedies and TV commercials. I started working professionally from the age of nine – that was when I got into Joseph – and from then on, I've just been doing bits here and there."
Is there anyone in EastEnders that you'd love to have a scene with? "June. I want to have a scene with June Brown. Maybe she'd sort Keegan out!"
Get the What to Watch Newsletter
The latest updates, reviews and unmissable series to watch and more!
Alison Slade has over 20 years of experience as a TV journalist and has spent the vast majority of that time as Soap Editor of TV Times magazine.
She is passionate about the ability of soaps to change the world by presenting important, issue-based stories about real people in a relatable way.
There are few soap actors that she hasn't interviewed over the years, and her expertise in the genre means she has been called upon as a judge numerous times for The British Soap Awards and the BAFTA TV Awards.
When she is not writing about soaps, watching soaps, or interviewing people who are in soaps, she loves going to the theatre, taking a long walk or pottering about at home, obsessing over Farrow and Ball paint.