Aaron turns to drugs in prison, reveals Emmerdale's Danny Miller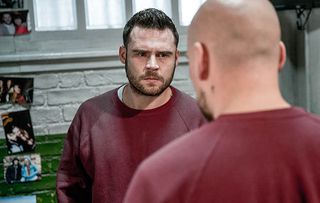 Aaron Dingle has been jailed for 12 months and is soon tempted to start taking drugs to help him get through the painful days and nights. Emmerdale's Danny Miller tells Soaplife why he's on a rapid downward spiral....
Life in prison is hell for Aaron. Not only is he paranoid that his other half, Robert, will be unfaithful now that he's behind bars, the poor mechanic is also beating beaten up on a daily basis and soon turns to drugs to cope. "It goes from bad to worse," Danny Miller tells Soaplife. "He is doing what he always does and self harming, this time with drugs."
What's going on inside exactly? "There is this man called Jason who is one of life's demons. He is homophobic and abusive. Everybody knows that not only is Aaron gay, he is the son of a paedophile. As a result, he is getting daily beatings and is in a lot of pain."
How does he get into drugs? "He is in such pain; he asks his cellmate Ethan [Michael Warrender] for some "spice". He has already been offered it, but declined. Aaron's injuries are hidden from the view of prison guards, but he can barely walk, so he smokes this drug called spice to get him through the night and through Liv's prison visit, as he doesn't want her to know he is in agony."
Why doesn't he ask for help? "He doesn't want to burden anyone with his problems. He is worried about how Chas [Lucy Pargeter], Liv [Isobel Steele] and Robert [Ryan Hawley] are all doing and doesn't want to add any pressure to them. He wants to put on a brave face and make out he can handle being in prison."
How does he feel about the prison chaplain? "Father Aidan tries to throw Aaron a lifeline. Aaron has never met anybody like him. He is eccentric and down to earth. He has a past like Aaron's. But even though Aaron likes his approach, he will continue to maintain that he is okay."
What happens when Liv visits? "Ethan tells Aaron that the drugs will help, but they make things worse. He is a bit spaced out and Liv immediately realises that he is on drugs. He didn't realise how streetwise she was. She warns him that it is a stupid thing to do as it could damage his appeal."
Is he worried about Robert staying faithful? "Of course. It was Aaron's paranoia and jealousy that landed him in jail. He doesn't trust Robert around Rebecca and now he is no longer around to stop anything from going on between them."
What is ahead for Aaron? "He has his appeal coming up. He has also got to grow up now and focus on being a better role model and father figure to Liv. He needs to focus more on the people in his life and if he gets out, he will have to try and not do anything stupid. Being in prison has opened his eyes a bit."
Do you want him to get out? "I do. I hope it is sooner rather than later although it has been cool working on the prison set with new actors."
Emmerdale, ITV
Get the latest updates, reviews and unmissable series to watch and more!
Thank you for signing up to Whattowatch. You will receive a verification email shortly.
There was a problem. Please refresh the page and try again.