Emmerdale star Adam Thomas: 'Adam is dying to get Victoria back'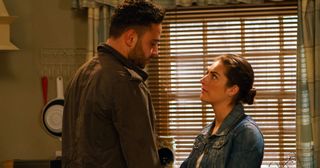 (Image credit: Mark Bruce)
Emmerdale's Adam Barton is suffering problems with his eyes but the upside is that it brings him closer to his estranged wife Victoria, will they get back together?
Emmerdale star Adam Thomas has given an interview to Soaplife to explain what's going on with his character Adam Thomas's fears for his sight and relationship with his estranged wife Victoria.
What's the story?
Adam Barton is in a bad way. His eyesight is failing and he feels vulnerable. The silver lining to all of this is that Victoria takes him to the hospital and the pair share a kiss. "He never stopped loving Victoria," actor Adam Thomas told Soaplife. " She starts being really nice to him and it is just like old times."
What's happening in Emmerdale? See the latest Emmerdale storylines
Adam Thomas's Soaplife interview
Soaplife: What's going on with Adam's eyes?
"Everything is a bit blurry and at first he wonders if the settings are right on the TV. He tries to keep it to himself for a bit, but it gets worse and eventually he tells Finn, who then mentions it to Victoria. Hopefully, it won't be a long-term issue or else I'll be walking round with a stick."
Adam Thomas: How is he feeling in himself aside from the eyes?
"He's been having a bit of boy time with Aaron Dingle, which is nice – it's great for me as actor Danny Miller and I are mates outside of work. They have both been through a breakup, so it is nice to know they have each other."
S: He's been supporting Pete Barton too…
"Yeah, he's trying to keep himself busy. Adam has been through similar – he cheated on his missus, so has some great advice to give, although it may not be the best advice!"
AT: Does Adam want Victoria back?
"He is dying to get her back! Kissing Vanessa didn't mean anything, he was drunk and in a bad place at the time. He is desperate for Victoria to see his side of the story, but she can't."
S: What happens when Victoria takes him to hospital?
"They do a lot of talking and he enjoys being with her again. She looks after him and it appears that there is some light at the end of the tunnel as far as their relationship is concerned."
AT: How does this kiss come about?
"It comes out of nowhere. They find out that the problem with Adam's eyes is okay, get home and it happens – I think they both want it. Victoria says it felt good, but she wasn't sure it was the right time. Adam likes to think it meant something. He wants her to know that he is there for her and that they don't have to rush things."
S: What should he do?
"He needs to take a step back and not push it so much. He broke this woman's heart, so he needs to give her time to get over it."
AT: How will Adam feel if he finds out that Emma killed James?
"James was his dad, well his biological dad anyway and he thought he'd be able to have some sort of relationship with him. It will be a massive blow."
Get the What to Watch Newsletter
The latest updates, reviews and unmissable series to watch and more!