Emmerdale star Amy Walsh reveals Tracy Metcalfe's life is being made hell by a troll!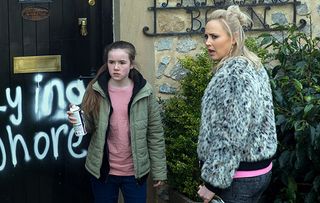 Amy Walsh reveals Tracy Metcalfe's life is being made hell by abusive messages… then she comes face to face with her troll!
Tracy Metcalfe, played by Amy Walsh, is bracing herself for sick stalker-cum-blackmailer Phil Webb's sentencing and is trying to get through it without estranged husband David's support. However, she's rattled by a stream of abusive messages… then she catches her troll in the act!
What's the story?
"Tracy gets an abusive letter in the post," actress Amy Walsh tells Soaplife, "and she is getting horrible texts. She knows it's something to do with Phil, but doesn't know who's behind it all." Who is trolling Tracy?
What's happening in Emmerdale? See the latest soap storylines
Amy Walsh talks to Soaplife about Tracy being left shaken but furious by a string of abusive messages…
Soaplife: Tracy catches her troll in the act when she pops out to buy wine for her dad's birthday…
Amy Walsh: "She sees a young girl spray painting a message on David's house. She assumes she's just a kid messing about, playing truant, but then she notices that she's written some awful things and has called Tracy a whore. She is rattled."
S: So does she know who the girl is?
AM: "You'll have to wait and see!"
S: Does this discovery put doubts in Tracy's mind about going through with the charges against Phil?
AM: "No. She wants to protect vulnerable women and hopes this will justify all the negative things she has been through. It will mean a lot to know something good has come out of it."
S: How are things between Tracy and David?
AM: "It is difficult as the one person Tracy wants there when she's in court is her husband. She also has to explain why his front door has been spray-painted with graffiti. But when he suggests going to the hearing to support her, but she asks him not to. It's quite sad really. She urges him to go on holiday with Jacob, so they can repair their relationship."
S: How do you think Tracy is coping with everything?
AM: "She is okay, she is stronger than you might think. When you are going through an awful time, distraction is better than anything. She is a powerful, strong woman."
S: What's in store for Tracy?
AM: "I want her to find happiness or love again, but I also like the broken side of Tracy and part of me wants to see her go into self-destruct again. It would be interesting to see her be single for a bit and see what that brings. I would love her and David to work it out, that is the romantic in me. I do enjoy the emotional storylines and I love it when someone tweets that I made them cry."
Emmerdale continues on ITV.
Thank you for signing up to Whattowatch. You will receive a verification email shortly.
There was a problem. Please refresh the page and try again.