'Belle's affair with Dr Bailey will end in tears,' says Emmerdale's Eden Taylor-Draper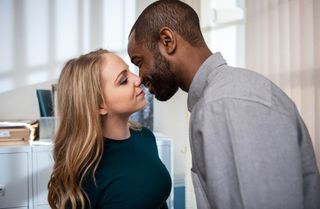 (Image credit: Andrew Boyce)
Emmerdale's Eden Taylor-Draper tells Soaplife about Belle's affair with a married man...
Is this affair legal?
"Yes. Belle is 17, although at first Dr Bailey [Micah Balfour] assumed she was 22 or 23… and he's 35. He's not technically Belle's doctor, either, although he did bandage her hand when she cut it."
Why go for a married man?
"They get on really well. When Belle found out he was married, it did put her off, but then Lisa [Jane Cox] had a rant about how love doesn't exist, so Belle decided she would be the other woman after all."
Would she be doing this if Zak (Steve Halliwell) and Lisa were still together?
"I do think that it's partly fuelled by what's happening at home. This is an escape for her. Dr Bailey has status, buys her things and takes her to nice places. She's had a terrible time lately and he makes her feel amazing."
How does Belle feel about Zak getting engaged to Joanie?
"In Belle's eyes, Joanie [Denise Black] is the worst woman in the world. She's still hoping that her mum and dad will get back together. Even though Belle is sleeping with a married man she thinks to herself, 'I am not like Joanie'. She hates Joanie."
Belle start a fire at the factory – how does that happen?
"She takes Dr Bailey there after hours and lights a candle in the office. They are having yet more nookie when the candle starts a fire in one of the bins. Belle gets in trouble for it, but the fire's kept under control. Nobody dies."
Is it a teenage crush?
"I think Kirin [Adam Fielding] was Belle's teenage crush. She has really fallen for Dr Bailey."
What will happen when the truth comes out about the affair?
"It's bound to end in tears. I imagine Joanie will have her say and it will be hard for Lisa to deal with. I'm not sure the Dingles would be understanding and there will probably be a punch-up!"
Emmerdale, ITV
Get the What to Watch Newsletter
The latest updates, reviews and unmissable series to watch and more!