Bernice White confesses her crime in Emmerdale says Samantha Giles!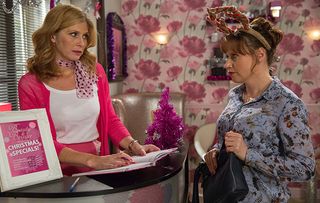 Samantha Giles reveals how Lydia Hart reacts when Bernice White confesses to stealing her inheritance in Emmerdale…
While Bernice White is thrilled that her business is running smoothly and her debts are diminishing, spending Mrs Dumphreys' winnings does not sit easily with her. Bernice knows the money really should have gone to Lydia Hart and, when she sees how broke Lydia is, she is overcome by her guilt and she confesses to stealing the cash.
What's the story?
"Bernice feels terrible," actress Samantha Giles told Soaplife. "All along she's been telling herself she'll pay the money back, but it's got out of hand." But what will Lydia make of Bernice's shock confession?
What's happening in Emmerdale? See the latest soap storylines
Samantha Giles reveals to Soaplife how Bernice confesses to stealing Lydia's inheritance in Emmerdale
Soaplife: Why did Bernice take the money that should have gone to Lydia?
Samantha Giles: "Nicola King was egging her on. When Mrs Dumphreys died, they thought she didn't have any living relatives and Nicola said that if they later discovered she did, they could pay the money back. Nicola was very persuasive."
Soaplife: What state are Bernice's finances in?
SG: "She has been struggling with the business – Kerry messed it up a bit while Bernice was in Australia. She's had to fight to get her clients back and she hasn't even got her own house. That made the thought of this money even more tempting. But she is feeling guilty. Actually, it is making her feel ill."
SL: Is she pleased to have daughter Dee Dee visiting from Australia?
SG: "Yes, but she has made out to her that she is more successful that she actually is. She is putting on this act to try and force her to care for her. It's sad really."
SL: So why does Bernice finally confess to Lydia?
SG: "She can't cope with the stress any more and decides to tell Lydia the truth."
SL: How does Lydia react?
SG: "It doesn't go very well. Lydia says 'I can't believe you've been doing this!' Bernice feels even worse then and isn't sure how to make amends."
SL: Why does Daz Spencer intervene?
SG: "Dee Dee decides to go back to Australia and Daz makes sure that she goes to see Bernice first. It means she gets to resolve the situation before her daughter disappears again."
SL: What sort of Christmas can Bernice expect?
SG: "Well, I think there might be a nice little surprise for her on Christmas Eve. But she is going to have to start saving her money so that she can pay Lydia back."
Get the latest updates, reviews and unmissable series to watch and more!
Thank you for signing up to Whattowatch. You will receive a verification email shortly.
There was a problem. Please refresh the page and try again.