'I love you, Laurel!' Emmerdale's Tony Audenshaw talks about Bob Hope's shock revelation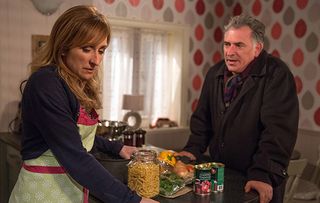 Emmerdale actor Tony Audenshaw has revealed that Bob Hope stuns Laurel Thomas with a declaration of love when the news about their fling gets out.
Bob Hope and Laurel Thomas have made a pact never to tell anyone about their one-night-stand. But when the truth comes out, Bob panics, actor Tony Audenshaw has revealed to Soaplife. And he also realises he's got feelings for Laurel…
What's the story?
Bob Hope's put a lot of effort into wooing estranged partner Brenda Walker since his passionate fling with Laurel was exposed, even though Brenda still has no idea it was Laurel Thomas that Bob slept with. As far as she's concerned, they're to be married and he's promised he'll stay faithful. However, Bob's changed his mind about Laurel. He reveals it's her that he wants – and she only has to give him the nod. "He does love Brenda," actor Tony Audenshaw tells Soaplife. "But I think he's falling in love with Laurel." What's the betting it all ends in tears?
What's happening in Emmerdale? See the latest soap storylines
Tony Audenshaw talks to Soaplife:
Soaplife: How does Harriet Finch find out about Bob's thing with Laurel?
Tony Audenshaw: "It's the twins' 11th birthday and Brenda invites Laurel and her kids along. They have a really nice time and Harriet notices something between Bob and Laurel. Later, she confronts her and Laurel confesses to everything, including the fact she has feelings for Bob."
S: Does Bob know about this?
TA: "No. He's completely unaware. He and Laurel have agreed not to talk about it to anyone because the ramifications would be terrible if it gets out. Laurel explains to Bob that she has told Harriet and he thinks, 'Oh no. That cat's out of the bag.'"
S: Does Harriet confront him?
TA: "Yes. Harriet talks to him and she says he needs to decide what to do. He feels the pressure and he has a little bit of a breakdown. He goes AWOL for a bit. He needs to get away so he goes and stays in a country pub."
S: How are things with Brenda?
TA: "Bob really wants to make a go of it with her. He feels very guilty about betraying her. He wants to marry her and show her how committed he is. He's convinced himself it's the right thing to do because it will make her feel better."
S: Does Bob plan to tell Brenda the truth?
TA: "When Harriet reveals she knows, he decides to come clean."
S: Why does he then go to Laurel's to declare his love?
TA: "He wants to know if there's anything there to hang around for or not. He's hedging his bets a little bit. If Laurel says 'No' then he'll probably go ahead and marry Brenda."
S: Does he worry about how Brenda will react if she finds out?
TA: "Of course. It will be terrible if that happens. He's worried about the twins, too, as Brenda's a great mother to them."
S: What do you make of all of this?
TA: "It's great. I'm really enjoying it. There are a few too many lines to learn, though. It's much easier dishing out coffees, then going out for a run! Seriously, though, I love having a big storyline to get my teeth into and working with Brenda and Laurel actresses Lesley Dunlop and Charlotte Bellamy is fantastic."
Emmerdale, ITV
Get the latest updates, reviews and unmissable series to watch and more!
Thank you for signing up to Whattowatch. You will receive a verification email shortly.
There was a problem. Please refresh the page and try again.