Bob Hope fears Brenda's cancer is back in Emmerdale says Anthony Audenshaw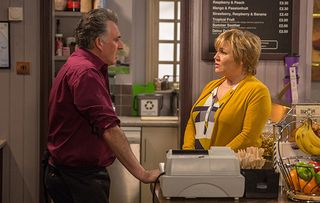 Emmerdale star Anthony Audenshaw tells Soaplife why cheating Bob Hope thinks his fiancée Brenda Walker is ill, not suspicious!
Laurel Thomas and Bob Hope's affair is over and Brenda Walker has got her man back, so it's full steam ahead with wedding plans. But Bob is so worried about Brenda's odd behaviour he confides in Laurel, says Anthony Audenshaw.
What's the story?
"Bob thinks Brenda's brain tumour might be back," actor Anthony Audenshaw explained to Soaplife. So he asks ex-lover Laurel Thomas for advice. Will Laurel tell him that Brenda knows about their affair?
What's happening in Emmerdale? See the latest soap storylines
Anthony Audenshaw's interview with Soaplife about Bob Hope's fears his fiancée Brenda's cancer is back…
Soaplife: How are things between Laurel and Bob?
Anthony Audenshaw: "Laurel doesn't want anything to do with him, she won't even talk to him. She is like 'You know the rules, we don't contact each other,' so that's it."
S: Has he guessed that Brenda knows the truth?
AA: "No, she is hiding it well."
S: Brenda is hiding something else, isn't she?
AA: "Brenda is really stressed, so Bob tells her to relax and go to the cafe while he sorts out the wedding invites and the food. He can't find the guest list and Heath says it might be in Brenda's secret cupboard. He opens it and all this random stuff falls out, bike helmets, hot water bottles, all sorts."
S: What does Bob make of that?
AA: "He assumes Brenda is stealing again and the last time she did that was when she had the brain tumour. He thinks it is back. She has been distracted and keeps getting these headaches."
S: Does he talk to Brenda about it?
AA: "He does, but she wafts him away and tells him not to be so silly."
S: What prompts him to talk to Laurel about it?
AA: "Brenda gives Arthur money for a school trip and Laurel is angry and tries to give it back. Bob thinks it's out of order, so he goes to see Laurel to apologise and mentions that he thinks Brenda's cancer is back."
S: Will Laurel tell him that Brenda knows about the affair?
AA: "Well, they are having this conversation and things might well get said."
S: Why do you think Bob cheated on Brenda?
AA: "Bob genuinely loves Brenda, but they're running a business and have kids to look after. All of a sudden, he got this bit of unexpected excitement in his life. He had that when he first met Viv and Brenda. He's only human!"
Thank you for signing up to Whattowatch. You will receive a verification email shortly.
There was a problem. Please refresh the page and try again.