Emmerdale: 'Kerry's horrified to discover she could go blind,' reveals Laura Norton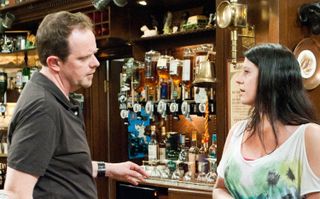 Laura Norton, who plays Emmerdale's Kerry Wyatt, has said going blind may be a vital "wake-up call" for her character about ignoring her diabetes.
Kerry and her pal Bernice (Samantha Giles) crash their tandem bike into the village church after the vision in her right eye completely goes. At first people don't take her injuries seriously – but they quickly realise something is very wrong.
Kerry and Bernice ride tandem - and straight into a drama (ITV)
"This whole situation is a shock to Kerry – it comes totally out of the blue. She failed to notice any warning signs whatsoever," says Laura.
"The doctors sit her down and tell her that she's suffering from diabetic retinopathy, as a result of her terrible diet and lifestyle. They insist that if she doesn't drastically alter the way she lives her life, she will lose the sight in both eyes permanently."
Kerry now faces the possibility of surgery to try and rescue her vision.
Kerry's failure to take her diabetes seriously could cost her her sight (ITV)
The actress, 32, said: "It's a terrifying prospect, and Kerry's horrified that this has happened to her – she's been far too busy neglecting her diabetes to even consider any serious consequences!"
Kerry has never fully committed to improving her diet and lifestyle since the diagnosis, despite boyfriend Dan's (Liam Fox) daughter Amelia (Daisy Campbell) suggesting that they join forces to eat more healthily.
Dan thinks the tandem is a lot of fun (ITV)
Laura explained: "Till now, Kerry has lived life to the full and hasn't worried about the repercussions. She likes to drink and smoke, she eats rubbish and she likes to party. She's been living in total denial about her diabetes, mainly because she's not been aware of the severity of the situation.
"So this incident could prove to be the best wake-up call she's ever had. It could help her."
Will the medical emergency finally force Kerry to make big changes in her life?
Emmerdale continues on ITV, Monday, November 16, 7.00pm.
Get the latest updates, reviews and unmissable series to watch and more!
Thank you for signing up to Whattowatch. You will receive a verification email shortly.
There was a problem. Please refresh the page and try again.