Emmerdale's Chris Bisson: 'Suddenly everyone knows about Jai's affair with Leyla!'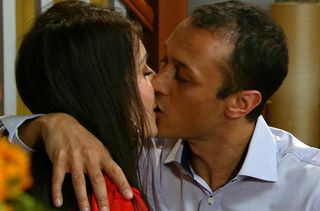 Emmerdale (opens in new tab)'s Chris Bisson tells Soaplife how Jai's nasty plan to get custody of his son Archie backfires - and he finds himself with a lot of explaining to do…
Jai Sharma has really got it in for Rachel Breckle. Having already locked her in a refrigerator and made numerous threats, he turns spy and puts a camera in Archie's teddy bear in order to collect incriminating evidence that he can use against her in court.
"He thinks she is a bad mother," says Chris (opens in new tab). "He needs to get some evidence so he can win his case and get custody of Archie."
But Jai's evil plot unravels when he is filmed cavorting with Leyla. What is Megan going to say about that?
Why is Jai being so horrible to Rachel?
"He thinks she is a bad mother. In his head, he's embellishing things and concluding that Rachel [Gemma Oaten (opens in new tab)] is not looking after Archie properly. He ended up with his arm in a plaster cast and Jai was the last person to find out and that really wound him up."
Why does Jai send a doctor to the house?
"Rachel lies and says Archie was ill and Jai interprets that to mean his son is at death's door and his mother is not doing anything about it. Jai will do anything to undermine Rachel and this is an example of that."
Then he tries to stir up trouble between Rachel and Sam…
"Jai sees Sam [James Hooton (opens in new tab)] and Tracy [Amy Walsh (opens in new tab)] have what looks like a close moment and decides to drop that in just before he and Rachel go into mediation because he believes it will ruffle her feathers. However, it seemingly backfires as Rachel takes the initiative and proposes to Sam. She makes out that everything is OK between them, but Jai has a strong suspicion that they have problems."
What happens during the mediation session?
"It doesn't go particularly well for Jai, so he decides to step things up a gear and asks Leyla to befriend Rachel. Leyla [Roxy Shahidi (opens in new tab)] goes round there while Sam and Rachel are in the middle of an argument. Leyla tells Jai that Archie was crying and so it's a very worrying situation for him."
What does he do next?
"Leyla comes up with this idea to hide a camera in Archie's teddy. The bear is left with a bit of an evil eye, but you can't really tell that there's anything in side it. The bear will be Jai's eyes and ears inside the house, enabling him to find out if anything untoward is happening to Archie."
And?
"Jai discovers that what he suspects is partly true. There is domestic violence going on, but it's between Rachel and Sam and not against Archie, as he thought."
How does Jai get caught out by his own trap?
"It's a classic soap storyline and you have to suspend disbelief that he would be stupid enough to leave the camera on while he's cavorting with Leyla. That's what he does and he gets caught – suddenly people know about their affair."
What will Megan (Gaynor Faye (opens in new tab)) do?
"Let's just say there are going to be ramifications."
Emmerdale (opens in new tab), ITV
Get the latest updates, reviews and unmissable series to watch and more!
Thank you for signing up to Whattowatch. You will receive a verification email shortly.
There was a problem. Please refresh the page and try again.