Emmerdale's Gaynor Faye: 'Jai surprisingly rejects Leyla to be with Megan'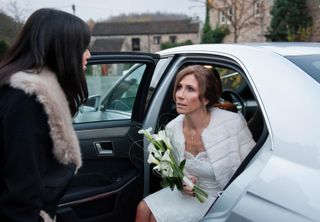 Surprising Priya (Fiona Wade (opens in new tab)), Georgia and even herself, Megan has decided to marry lying, cheating Jai - and she wants to do it as quick as possible. With Georgia and Leyla's help, Megan organises a surprise wedding, but Leyla throws a spanner in the works when she tells Jai she still loves him.
"Leyla made out to Megan that she and Jai were a one off," says Gaynor Faye (opens in new tab), who plays Megan, to Soaplife. "She has no idea that Leyla loves Jai. She just wants to be part of a family again as soon as possible."
Why does Megan want a quick wedding?
"Jai [Chris Bisson (opens in new tab)] comes as part of a package. Along with Archie, he is a ready-made family and that is a quick fix for Megan. Also, Megan doesn't really trust Leyla [Roxy Shahidi (opens in new tab)] and thinks that if she marries Jai in a day, then Leyla won't get her hands on him."
How does she feel about Leyla?
"Megan is not very trusting of Leyla. She is very similar to Megan in lots of ways and I think she still feels there could be something there between her and Jai."
And, indeed, there is - on Leyla's side, anyway. What does she do?
"Leyla panics and tries to ruin the wedding. Megan hasn't told Jai what she has got up her sleeve – only Leyla and Georgia [Trudie Goodwin (opens in new tab)] know. However, Leyla goes straight to Jai and tells him. She explains that she loves him and tries to win his affections behind Megan's back."
And does she?
"When Leyla tells Jai that she loves him, he doesn't take the bait. He surprisingly decides he wants to be with Megan."
Is there a happy future for Megan and Jai?
"Who knows? I hope it is not too happy because that wouldn't be fun to play!"
Emmerdale (opens in new tab), ITV. Click here (opens in new tab) for times and dates.
Get the latest updates, reviews and unmissable series to watch and more!
Thank you for signing up to Whattowatch. You will receive a verification email shortly.
There was a problem. Please refresh the page and try again.