Emmerdale's Nicola is ready for a new life in Dubai… Without Jimmy and Angel?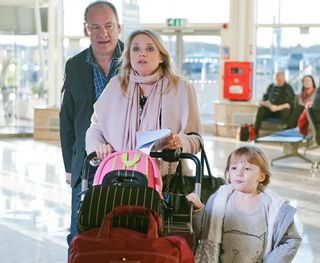 (opens in new tab)Emmerdale's Nicola Wheeler hints to Soaplife about what will happen to her character Nicola King while she's on maternity leave…
As pretty as Emmerdale village is, Nicola King has got her heart set on a champagne lifestyle in Dubai… And that fits in nicely with actress Nicola Wheeler (opens in new tab)'s need to disappear on maternity leave, for the birth of her first child. Nicola K's ambitions aren't shared by husband Jimmy [Nick Miles (opens in new tab)], though.
"Nicola's been offered this great job working for a spa and really wants to go," says Nicola W. "The pay is excellent. All she has to do is persuade Jimmy to go, too."
Can she?
So will Nicola go to Dubai while you're on maternity leave?
"You'll have to wait and see. Personally, I'm pushing for a soap bubble, a special with Nicola in Dubai, but I don't think that's going to happen."
How much time will you have off?
"I'm taking six months. It's great because myself and Emma [Atkins (opens in new tab), who plays Charity] have our due dates a day apart! I won't say the date as we don't want people standing outside with cameras watching me get wheeled in like a big puffer fish. But the race is on between Emma and I."
Are you coming back when you've had the baby?
"Yes! How Nicola comes back will be revealed sometime in autumn. I'm worried about how I will be. I have a serious case of baby brain and Lucy [Pargeter (opens in new tab), who plays Chas) says it doesn't get any better..."
Emmerdale (opens in new tab), ITV.
Get the latest updates, reviews and unmissable series to watch and more!
Thank you for signing up to Whattowatch. You will receive a verification email shortly.
There was a problem. Please refresh the page and try again.