Emmerdale's Sophie Powles on Holly's relapse: 'Moira tells her she hates her!'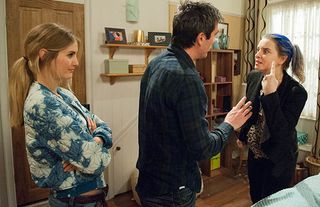 (Image credit: Andrew Boyce)
Holly is rejected when she makes a move on Cain – and she soon slips back into drug abuse. Emmerdale's Sophie Powles (opens in new tab) puts Soaplife in the picture…
Why would Holly go after her mum's husband?
"Cain [Jeff Hordley (opens in new tab)] has been looking out for Holly and she misreads the signals because she wants to be loved. She's been through a lot of bad things in her life and dated some really awful men. She should really go out there and look for a nice boyfriend of her own. But, instead, she dreams of what it would be like with Cain."
And her crush on him gets bigger when he defends her again, right?
"Yes. Charity accuses Holly of stealing Moira [Natalie J Robb (opens in new tab)] and Cain's missing gig tickets, which she did. She ripped them up in a moment of jealousy, then blamed Charity. But Charity always gets her own back and she frames Holly for stealing petty cash from Victoria's van."
Cain doesn't believe Holly's guilty, though…
"When it comes to Charity, Cain will always defend the other person, if only to prove to Moira that he has no feelings for Charity. He's also loyal to Holly as she's his stepdaughter. He points out Holly's been working really hard at the garage to prove herself."
Holly gets her own back on Charity, doesn't she?
"Yes. She dyes Charity's hair blue. That was so much fun to film. Emma Atkins [Charity] (opens in new tab) really had blue hair at the end of it!"
Charity turns the air as blue as her hair as she rages over what Holly has done to her
What does Cain think of Holly's revenge?
"Holly's in the cafe laughing and in rocks Charity with blue hair. Cain tells her she asked for it. Charity's furious and she lets rip. But, once again, Cain defends Holly."
So Holly thinks she can kiss him?
"Yes. She moves in for a kiss, which isn't a good move as Cain's in love with Moira and he pushes her away."
Why does Holly tell Moira that Cain came onto her?
"Cain asks Holly to leave Emmerdale and she's going to, but Moira sees her and says, 'What if I told you I know everything?' Holly thinks she's talking about the kiss, but she isn't. Holly panics and says Cain came onto her. She becomes a horrible person when she thinks she's in trouble."
And a silly one. She goes back to the drugs, doesn't she?
"Moira and Holly have a huge argument in which Moira says she hates her and that her dad would be so disappointed. Holly then turns back to heroin and Pete [Anthony Quinlan] finds her in a mess, overdosed on the floor outside the cricket pavilion…"
Emmerdale (opens in new tab), ITV
Get the What to Watch Newsletter
The latest updates, reviews and unmissable series to watch and more!