Emmerdale's Charlotte Bellamy: 'I have to ask April to lie to cover my drinking!' (VIDEO)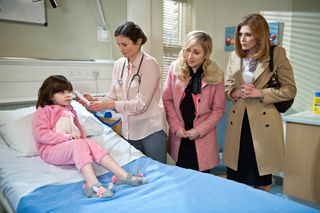 Ever since Laurel got stuck into the champagne on her wedding day last year, her drinking has slowly begun to spiral out of control. It gets to the point this week she has to ask her partner's five-year-old April to lie to cover her tracks!
The stressed-out mum has already lost her driving licence and her job because of her boozy behaviour. But there's worse to come...
"Laurel's drinking has now reached the stage where it's having consequences in her life," says Charlotte Bellamy, who plays Laurel. "She can't really cover it up any more and other people become involved."
"It shakes her up because herr drinking has consequences in causing April to go to hospital. It involves someone else, her secret's out, but she's still in control... She has to ask April to lie. There's an awful scene with me and Amelia, who plays April, and I have to tell her to take the 'Being Brave' sticker off in hospital, to cover my tracks... I tell her it's our little secret... It's awful."
Disaster strikes in Emmerdale, when Marlon's young daughter, April, accidentally drinks from Laurel's large glass of vodka and orange and has to be rushed to hospital. Will April be OK? And how will Marlon react if he discovers his wife has a drinking problem which has endangered April?
Watch Emmerdale star Charlotte chat to us about playing drunk, lying to Marlon and whether the Dingle marriage can survive, above.
Get the latest updates, reviews and unmissable series to watch and more!
Thank you for signing up to Whattowatch. You will receive a verification email shortly.
There was a problem. Please refresh the page and try again.