Emmerdale's Chris Chittell and Charlie Hardwick explain why they take the plunge – again!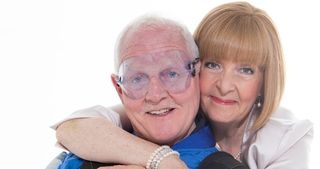 (Image credit: Joseph Scanlon)
Emmerdale stars Chris Chittell and Charlie Hardwick tell TV Times magazine how Pollard's daring skydive reunites him with Val…
Tell us why you agreed to do the skydive for real, Chris.
Chris: "When I am given the opportunity to do something that charges me with adrenalin, I do because I love it. However, I am not great with heights, so this was a challenge for me. The director told me to do what Eric Pollard would do on the way down and I have seen the footage – my eyes are as big as saucepans!"
Charlie: "Chris is game for anything. He is a daredevil who is always climbing mountains or deep sea diving. If it had been the other way round, I'm not sure I would have done it. Besides, I have an old whiplash injury so I am not allowed to do things like that. I signed up to do a zip wire challenge for charity recently and the doctor told me that the impact could be harmful, so I am afraid my feet have to stay firmly on the ground."
How are things between Val and Pollard when he takes to the skies?
Chris: "Valerie isn't impressed and thinks that he is just doing it for himself, but the whole reason he is up in that plane is to show her how much he loves her. He feels he has to do something extreme to convince her, but he is not a happy bunny after her reaction."
Charlie: "The jump is on the day of their wedding anniversary and Eric doesn't mention it. When he tells her he is doing a fundraiser, she is a bit snide and suggests it's a jumble sale. Then he leads her down the street and across the stream and shows her a village fete in her honour. She is moved and impressed – but thinks he is being a stupid fool for attempting a skydive. She is convinced he is going to kill himself."
Tell us about the jump itself.
Chris: "Letting go was the worst bit. I had to inch myself towards the door of the plane and all I could see was 15,000 feet of total oblivion staring me in the face. The rush of air is just so loud. I was attached to a parachutist and I was worried I would miss the cue to tuck my legs up and we would just fall out of the plane with him unable to take my weight. That didn't happen and we landed safely in front of the cricket pavilion."
Charlie: "As Eric comes out of the sky Val is terrified and is ready to call him all the names under the sun. When he lands, she runs up to him and he tells her it was the best feeling in the world, before adding 'apart of this' and kissing her. Then something happens – I can't tell you what, but in that moment Val realises that she never wants to lose Eric."
What happens when Val suggests they renew their vows?
Chris: "He doesn't know anything about it. She pounces on him and he feels a bit short changed, but he just embraces it. The ceremony itself was lovely. Just thinking about it makes me feel emotional. They adore one another and that becomes clear in the church."
Charlie: "Poor Eric. Val literally stops him and says she has two suits. He is not prepared for this at all and when they are in the church with their nearest and dearest, Val tells him to just say what is in heart. Chris does this very moving long speech that was so well done, it made all of us cry. I was in tears, so was Laura Norton and the crew. Even Katherine who plays the vicar."
But can Pollard overcome his fear of being intimate with Val?
Chris: "He's going to have to. It will be a terrible waste otherwise."
Charlie: "Val promises Eric that she doesn't mind if they are just companions. She would rather have half of him than lose him altogether. However, they do have a cuddle on the sofa, which is lovely. That is something he couldn't do with her after the diagnosis. They've got time, there's no pressure, so who knows what will happen."
Do you think viewers will be pleased that they are back together?
Chris: "The amount of people who have come up to me and said 'Val needs a boot up her backside.' More women than fellows actually. The other day, I was just getting into my car, when this van pulled up and this great big oik got out and steamed across towards me. I thought I was going to have to run for it when he suddenly said 'You have to get back with Valerie.'"
Charlie: "So many women have come up to me and said that Val must get back with Eric and I say 'But he slept with her sister.' All these women seem to be forgetting that."
How would you describe your working relationship?
Chris: "Charlie and I really enjoy each other's company and it's been fantastic going on this journey with her."
Charlie: "I feel really comfortable with Chris. I'm dead bossy and he doesn't mind which is good. There is no ego with him. There's a simpatico between us."
What do you think of the HIV storyline so far?
Chris: "A woman came up to me in the supermarket and said 'I love what you are doing.' She had HIV and she was elated with the way the disease was being addressed on the show which is great."
Charlie: "What's great about this new beginning for Val and Eric is that it is a symbolic acceptance. She is no longer defined by the illness. HIV is not the storyline from now on – it is something that Val lives with."
Get the latest updates, reviews and unmissable series to watch and more!
Thank you for signing up to Whattowatch. You will receive a verification email shortly.
There was a problem. Please refresh the page and try again.