Emmerdale's Dominic Brunt says Paddy Pantsdown is being 'a selfish idiot'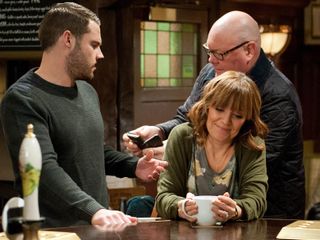 Emmerdale's Paddy is doesn't want his affair with Tess to hurt Rhona - but it could, Dominic Brunt reveals to Soaplife.
Why is Paddy betraying Rhona?
"His relationship with Tess [Nicola Stephenson] excites him. It makes him feel younger. When it all ends, he will probably look back and think it has all been a big disaster."
What does he see in Tess?
"Well, there is the sex side of things, which seems to happen quite a lot, they share a good sense of humour and they are able to pour out their problems to one another. Tess is not attached to anybody in the village and he likes having this person that he can just blab to."
Does he feel guilty?
"To be honest, he is not being very human about it. He is being selfish, enjoying the affair and thinking, 'These things don't happen to me'. He is being duplicitous. He has split his morals and his mind in two. One side is his family, who he wants to protect, and the other is Tess. He is really loving the fling!"
So what about adopting a child with Rhona?
"He wants it to go ahead and says to himself 'This doesn't affect me as a dad'."
How does he react when he hears Rhona wants Tess to be their referee?
"That rattles him. He thinks it is a terrible idea. He wants to keep Tess and his family life separate, but Tess is kind of playing games and rightly so. He thinks he can pick her up and drop her whenever it suits him, but she is pushing back a bit and starts turning up in the village. The chickens are coming home to roost and it is worrying him."
What happens when Rhona finds Paddy's second phone?
"Paddy says it belongs to Aaron [Danny Miller]. He has used him as an excuse a couple of times. Paddy thinks that as he has always been there for Aaron, he owes him."
What does Aaron think?
"Aaron doesn't react well at all to Paddy's affair when he tells him about it. He sees Paddy as this morally upstanding father figure who doesn't do things wrong. He is Aaron's moral compass.
What would make Paddy choose between Rhona and Tess?
"The threat of Rhona [Zoe Henry] finding out. The last thing he wants is for her to get hurt. He is hoping that the affair will eventually end and then he can go back to normal with Rhona. He loves her and he doesn't want to lose her."
Would he ever choose to be with Tess over Rhona?
"I think if it all collapsed and he had to be with Tess, he would realise what he has lost. He should be with Rhona. He is being a selfish idiot!"
Emmerdale, ITV
Get the latest updates, reviews and unmissable series to watch and more!
Thank you for signing up to Whattowatch. You will receive a verification email shortly.
There was a problem. Please refresh the page and try again.