Emmerdale's Freddie Jones: 'Sandy feels like he's lost a friend and mother in Edna'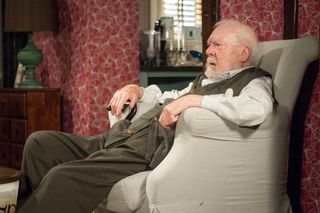 (Image credit: Andrew Boyce)
Emmerdale actor Freddie Jones (opens in new tab) talks to Soaplife about losing cast member Shirley Stelfox, who played Edna, and his thoughts on retirement…
How does Sandy react to the news of Edna's death?
"He is heartbroken, but angry too. He is furious with Ashley [John Middleton (opens in new tab)] because he feels he should have revealed that Edna was unwell. He blames him for not getting the chance to say a final goodbye to Edna. Ashley gives his reasons, but Sandy is still furious."
How would you describe their friendship?
"It was important to Sandy. Losing Edna feels like a cross between losing a friend and a mother. He felt very comfortable with Edna. Their relationship was never sentimental or smarmy. She had her acid tongue and never let anybody get away with anything, but there was a lot of love there between them."
How will he come to terms with not saying goodbye to Edna?
"There is a lovely scene coming up where he starts talking into one of those walkie talkies that he and Edna used. He is talking to her, even though he knows she is dead and says: 'You cheated me, you went before I was ready.' It is a very touching moment. I added a bit in at the end where I say 'over' and throw the walkie talking over my shoulder before saying 'and out'."
Shirley Stelfox (opens in new tab), who played Edna, died last December. That must be a huge loss…
"Yes, I shall miss working with her very much. We had a lovely working relationship. We all miss her."
You're 88 now. Do you have any plans to retire?
"Don't be silly! Actors don't retire, we die. I remember working with this actress in the desert once. She was 95 and loving it. She was beautiful and poised and she said to me, 'What a wonderful profession. Yesterday I was in Mayfair and look where I am today, here with you and all these lovely people, working again'."
Emmerdale (opens in new tab), ITV
Get the What to Watch Newsletter
The latest updates, reviews and unmissable series to watch and more!