Emmerdale's Lorraine Chase: 'Richard was my second dad'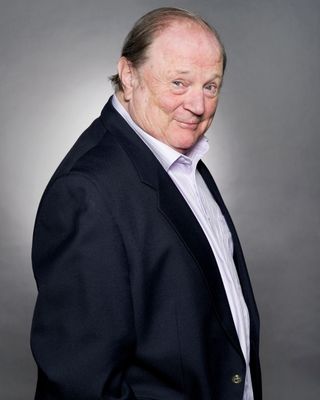 Emmerdale's Lorraine Chase talks to TV Times magazine with her tribute to the late Richard Thorp...
You played Alan Turner's daughter in Emmerdale and you were close to Richard. Was it difficult filming his funeral scenes?
"It was moving for everyone. I felt as if Richard was there and he would have loved every minute of it. When I saw those bikers and the hearse, it gave me a little tear. I will always think of him as my second dad. I loved him dearly."
Did you speak to him shortly before he passed away?
"He telephoned me the day before he died. I remember it well because I was feeling a bit miserable and it was such a lovely surprise. I said to him, ''ello Dad, how are ya?' We had this most delightful conversation. We were on the phone for about an hour and a quarter. He said 'Lorraine, I wish you could come back for a guest spot' and I promised him I would call Emmerdale to see if they could sort something. That was the Saturday and on the Sunday morning he died."
That must have been very difficult...
"It was a shock and I was so glad when they asked me to appear at the funeral because it meant I could keep my promise to Richard."
You played Steph for more than four years. Why did you decide to leave?
"I had been in Leeds for four and a half years and my mum and dad were still alive then, so I had commitments at home."
Did you keep in touch with Richard after you left?
"Yes. I went to see him in Powys where he lived. His house was right up on a hill and I stayed in the guest cottage. I remember going to a pub in the evening and everybody knew him. Everybody loved him. He was a delight to be with and was always giggling. He had a twinkle in his eye and he did like the ladies in a delightful way. He was very handsome you know, even as he got older, and his relaxed face was one that always had amusement on it."
Are you glad TV Times is paying tribute to Richard?
"It's lovely because he deserves a tribute. He was a good friend, but a wonderful actor too. I didn't go to acting school, so I really have to feel what I am saying and doing. Richard was so easy to act alongside. He was very real, very sincere and he had me in tears a couple of times. I am going to miss him a lot. He is a wonderful man. I say 'is' because Richard will always be part of me now."
Get the latest updates, reviews and unmissable series to watch and more!
Thank you for signing up to Whattowatch. You will receive a verification email shortly.
There was a problem. Please refresh the page and try again.