Emmerdale's Matthew Wolfenden: David kidnaps Lachlan!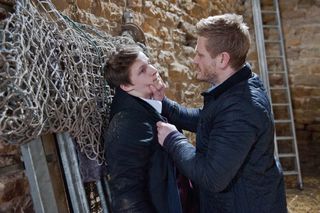 Emmerdale (opens in new tab) star Matthew Wolfenden (opens in new tab) says things turn nasty when David sees red…
How has David been since the attack on Alicia?
"He hasn't cried, shouted or screamed because he wants to be there for Alicia. He doesn't want to make it all about him. He's worried about Alicia as she has completely shut off."
How's Lachlan's family behaving towards the couple?
"They're being pretty horrible. Lachlan's telling them a bag of lies and Chrissie thinks Alicia is to blame. They call her a paedophile and suggest that she was grooming Lachlan and leading him on."
Is that why David kidnaps Lachlan?
"David has been bottling his feelings up and he snaps. He wants Lachlan to tell the truth and apologise."
What does he do?
"He decides he's going to get Lachlan into his van and take him somewhere. He wants him to admit the truth so the lies about Alicia don't continue. He sees him at a bus stop and manhandles him into the back of his van. He loses the plot, really and sees red."
What happens?
"David takes him to a barn, where Lachlan winds him up and will not back down. Even though David is stood over him, Lachlan is still going, 'I have done nothing wrong, it was her fault, we're going to press charges because my mum thinks she has been grooming me'."
Is David afraid Chrissie will report him to the police?
"Yes. The worry is that they will press charges and David could get into quite a lot of trouble for it. What will happen to Jacob if both David and Alicia get sent down?"
Get the latest updates, reviews and unmissable series to watch and more!
Thank you for signing up to Whattowatch. You will receive a verification email shortly.
There was a problem. Please refresh the page and try again.