Emmerdale's Ryan Hawley: 'The truth coming out is Robert's worst nightmare, but I can't wait!'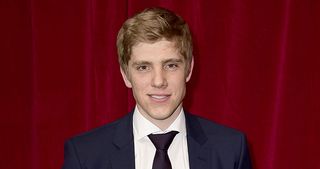 (Image credit: Matt Crossick)
Robert Sugden is the Emmerdale villain with the Midas touch. Untouchable Sugden appears to have got away with every single evil deed he has committed since returning to the village last year.
But while he may think he's invincible, he may meet his match this week when he dares to take on the might of the Dales' very own Prince of Darkness, Cain Dingle.
TV Times (opens in new tab) talks to Ryan Hawley (opens in new tab) about the joy of playing conniving and confused Robert Sugden…
Robert tries to blackmail Cain and forces him to find Adam and Victoria in exchange for his silence. Tell us what happens...
"Cain does his bidding, but then shows Robert who's boss by beating him up and giving him a nasty scare."
But Robert knows what Cain is like from days of old...
"Yes, they had encounters in the past when Robert was played by another actor, so he knows he is not to be messed with.
So why would Robert chance getting beaten up?
"I guess Robert thinks that in his time away from this small village, he has seen bigger fish and that Cain is not as threatening as he once thought he was."
Who comes off worse?
"I don't want to give too much away, but Robert doesn't come out of it well. Cain gets the better of him."
How was it filming those scenes with Jeff Hordley, who plays Cain?
"I really loved filming them with Jeff, because, without sounding too mushy about it, he is possibly one of the nicest people here. He is fantastic person to learn from. I couldn't speak highly enough of him and I hope I get to work with him again."
You're nothing like your character in real life, are you?
"I play a nasty character in the show, and it wouldn't help if people see who I am in real life. I like to divorce the two – I hope you understand.
"It's true that I am nothing like Robert who I'd describe as morally elastic. He always finds a way of justifying things, but I love playing someone so devious and selfish who does horrible stuff.
"He is a lot more interesting than being all bad, like an out-and-out psychopath who goes round killing people."
After this event, do you think people will feel sorry for Robert?
"I think they might start to empathise with him and then they might forgive him for what he's done, because they know where he is coming from and why he has done it."
Were you nervous about taking over the role of Robert from Karl Davies when you joined Emmerdale last October?
"It is really nice to be accepted in a show that is well established like that. Coming in and playing a character that people have loved before is a real honour.
"I love this job, it has been a fantastic experience and I feel lucky that they have put so much trust in me."
You grew up in Sheffield, left drama school at 21 and worked in theatre, as well as doing bit parts in TV. But to make ends meet,
we heard you once worked as a labourer, stacking shelves and cooking Japanese food?
"That's right. Like any jobbing actor, I was sometimes out of work and had to find other ways to earn a living. I did lots of different jobs and enjoyed them all – I always tried to find the best in them and, of course, as an actor, any new experience is something you might have to draw on in the course of your work."
How did your family react when you landed the role on Emmerdale?
"My family are massive fans of the show – I didn't actually tell them I had been cast because I wanted to keep it a secret. When it was released they were over the moon. I should have told them sooner as they had a wealth of knowledge about the show – they knew more about Robert Sugden than I did!"
Robert has certainly made his mark on Emmerdale. Are there more dark deeds up his sleeve?
"Robert has cheated on Chrissie with Aaron, he had a hand in Katie's death, he faked a robbery at Home Farm and hired a hitman to get rid of Chas. I hope there is more to come – what else can they throw at me?
"I am sure there will be a lot more. The thing about Robert is, he is a doer. He does things and thinks about them afterwards."
Do you get recognised in public?
"Mainly in the daytime – if I go out in the evening, nobody knows who I am because they are probably at home watching Emmerdale.
"There was this woman working on the supermarket till who hissed at me and started asking everyone in the queue if they knew who I was. She said 'Oooh, I know you. You're that nasty one, aren't you?'
"It was embarrassing and she carried on even as I walked off! But I have not had anyone slap me or do anything like that."
Apparently, there are lot of fans supporting Robert's steamy relationship with Aaron Livesey...
"My wife will often tell me she has read something about it. The main people who are supportive of the relationship are young teenage girls. Apparently, Aaron and Robert are known as Robron.
"Aaron is Robert's soulmate, he can be himself around him. Whether he is gay or straight I don't know. I don't personally adhere to the belief that it is either black or white."
Do you think Robert will ever admit to being gay?
"I think there is a spectrum and people throughout their life will fluctuate as they choose. I think Robert is very much that way. I don't think he would ever admit that he is gay because of the stigma attached to it."
If the truth about Robert and Aaron ever comes out, how do you think Chrissie will react?
"What would any woman do if she found out her husband was having an affair? In front of the entire village, where the White family are the celebrities of the place.
"It is one of the most horrible betrayals you can do to someone you say you love. The truth coming out will be Robert's worst nightmare, but I can't wait!"
Get the latest updates, reviews and unmissable series to watch and more!
Thank you for signing up to Whattowatch. You will receive a verification email shortly.
There was a problem. Please refresh the page and try again.