Emmerdale Exclusive: Charley Webb on Debbie Dingle's heartbreaking discovery that her daughter needs a heart transplant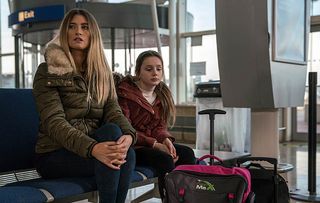 Debbie Dingle actress Charley Webb: 'Obviously for any parent to have a child who is so ill is terrible.'
There was heartache for Emmerdale's Debbie Dingle tonight when she was told that young Sarah needed a transplant. It's yet another blow for the mechanic, whose daughter was diagnosed with the life-limiting condition Falconi Anaemia back in 2011, and last year battled cancer.
Sarah showed signs of being ill earlier in the week when she was caught by the police for joyriding and was unable to make her escape with fellow accomplices Leanna, Jacob and Noah, due to being short of breath. The teen's condition then deteriorated as she was questioned at the station – an interview in which she told police the truth about her mum's involvement in the acid attack on Ross Barton.
We caught up with Emmerdale star Charley Webb, who plays Debbie Dingle, to talk about Sarah's confession and the long road ahead…
From Debbie's perspective, how does Sarah take the news that she needs a heart transplant?
"Sarah is quite shocked, obviously, there was talk of there being a problem as the days went on, but then obviously there was this huge shock of her actually needing a heart transplant. She's a bit emotional about it, she takes it out on Debbie at first, but she does deal with it really well."
Sarah was ill with Falconi Anaemia a few years ago, and more recently had cancer. Debbie must be heartbroken to learn that Sarah is ill again.
"Debbie is shocked; at first she thought the cancer was back and obviously the relief was huge when she knew it wasn't. But then the news that she needs a transplant isn't great. Obviously for any parent to have a child who is so ill is terrible."
Meanwhile, Sarah has told the police about Debbie's involvement in the acid attack on Ross Barton – how does Debbie feel about that?
"I think she accepts it. She doesn't shout at her, she says it's fine; if this is what she needs to do, it's what she needs to do. I think Sarah is a bit confused in terms of what Debbie was actually involved in; she thinks at times that Debbie paid for it to happen, which wasn't the case. So she calms down when she realises the actual truth and realises it was a tragic accident."
Are you enjoying working with Katie Hill, who plays Sarah?
"Yes, I'm always asking for more scenes because I think she's amazing; she's so talented. She spends a lot of time at my house with my children (seven year old Buster and two year old Bowie) and they adore her, so we're really close and I just think for her age she is superb, and super talented. I'm looking forward to stuff we've got coming up."
Do you get time to rehearse together?
"Yes, sometimes she's had some big scenes that I've not been in, and we have a bit of rehearsal time together to help her out, because she's still young and sometimes needs a bit of guidance. It's great to offer that in the same way Jeff Hordley (Cain) and Emma Atkins (Charity) did with me. Like when she had the scene where Sarah was screaming and shouting at Joe in the office. So there are bits she's done that I've not necessarily been in, but she'll come to me for advice, and it's great to be able to help her."
Debbie Dingle has more emotional heartache coming up in the wake of Sarah's diagnosis. Is that enjoyable for you to play?
"Enjoyable probably isn't the right word for the emotional stuff, because its always quite draining. But I do like doing it in a weird way because I feel like I get more from it for myself when I've done stuff like that. I wouldn't want to be doing nothing or I'd be bored!"
Are you relieved that Debbie's big secret – that she was inadvertently responsible for Ross's acid attack - is now out?
"Yes definitely, there's a huge relief now it's out. I think the reactions from people shocked her a little bit because I think she thought people would understand. The Dingles have been beating people up for years so in her mind she's very much like 'I wanted Joe to suffer and get beaten up for what he's done to the family, he destroyed the Dingle home, had it knocked down.' She asked this guy to beat him up and he went too far. She feels immense guilt and feels terrible, but feels she's not fully responsible."
Emmerdale continues on ITV.
Get the latest updates, reviews and unmissable series to watch and more!
Thank you for signing up to Whattowatch. You will receive a verification email shortly.
There was a problem. Please refresh the page and try again.