Emmerdale's Nick Miles: 'Jimmy King has no idea about Joe Tate's plan for him!'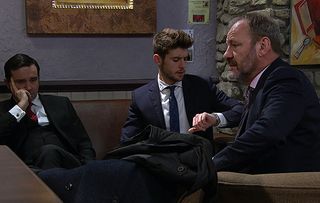 Emmerdale star Nick Miles has revealed that Jimmy King has completely underestimated Joe Tate's game-playing – and he's stuck in the middle!
Jimmy King is under pressure to work for the hated Joe Tate because his wife Nicola King is loving the status – and the money! Actor Nick Miles has revealed to Soaplife that Jimmy doesn't realise Joe is using him for his latest revenge plan – against Robert Sugden.
What's the story?
Now that Jimmy King's been promoted, his wife, Nicola, thinks they've finally arrived and she can lead the lifestyle she was born for. One of the first things she does is book a couple of holidays – just as Jimmy is wondering if business mogul Joe Tate's job is for him after all.
"He isn't enjoying his new role," actor Nick Miles has confessed to Soaplife. "Zak Dingle's persuaded him that Joe's a bad man and he thinks he's probably right."
But does he realise how bad Joe can be?
What's happening in Emmerdale? See the latest soap storylines
Soaplife's interview with Nick Miles about Jimmy King
Soaplife: Why does Jimmy feel suspicious?
Nick Miles: "Well, for a start, he's been made Estate Manager, but his job hasn't changed very much. Zak's been talking to him about Joe and Graham Foster's also thrown in a few hints."
S: Why doesn't he just quit?
NM: "Nicola makes it worse by planning a couple of holidays just as Jimmy's thinking about backing out. That puts him under pressure. She's really enjoying his new responsibilities as it fits in with her aspirations. One of his reasons for being is to make Nicola as happy as he can."
S: Does he suspect Joe is using him?
NM: "He has no idea of the extent to which he's being used. Behind the scenes, Joe decides to use Jimmy to get back at Robert Sugden after some smoke from the scrap yard results in him losing a client."
S: What does Jimmy think of Robert?
NM: "He doesn't like Robert much, but he's been a reasonable business partner and, after working with Charity Dingle, it's arguably a relief. The haulage business has been going well under their joint stewardship and Robert did let him become a silent partner to save the job at Home Farm."
S: Is Jimmy at match for Joe?
NM: "You shouldn't underestimate Jimmy because he comes out on top in the end. He's always trying to make moral choices and that slows him down."
S: Has he lost his ruthless streak?
NM "He had a major change in direction when the house collapsed. The way the King family were going back then, it was never going to lead to anything but disaster. Jimmy's tried to make more ethical choices, which is a harder way of doing things."
S: Does he miss the old days with his three brothers and his dad?
NM: "He misses his brothers, but not the hell of those days. It was a nightmare! I miss the guys. I saw Carl actor Tom Lister strutting his stuff in 42nd Street recently."
S: Can Jimmy get his sexual mojo back?
NM: "Not under this pressure. He's reaching for the Viagra at the moment. If he has any sense, he'll stop working for Joe Tate immediately. I want him to carry on though as it is such great fun working with Joe and Robert actors Ned Porteous and Ryan Hawley. I know Andy Scarborough, who plays Graham, from days of old as I did my very first stage job with him back in the day when he had a brush with Henry V."
Emmerdale, ITV
Get the latest updates, reviews and unmissable series to watch and more!
Thank you for signing up to Whattowatch. You will receive a verification email shortly.
There was a problem. Please refresh the page and try again.