Emmerdale star Joe Gill on Finn Barton's shock death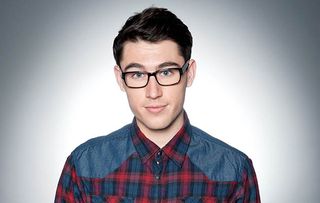 It was curtains for the village geek tonight after being shot by mum Emma...
Actor Joe Gill talks about the tragic demise of Finn Barton in Emmerdale and why, after four years in the show, he decided to hang up Finn's famous black glasses…
What's the story?
Just over 12 months after James Barton went to Emmerdale heaven, poor Finn met his maker tonight. As the first of Thursday's episodes opened, doctors were seen trying to revive the youngest Barton brother, who had flatlined after being accidentally shot by mum Emma earlier in the week. But it wasn't to be – the bespectacled geek didn't pull through, and Ross and Pete were left mourning another member of their family.
Actor Joe Gill talks about his alter-ego's tragic demise and why, after four years in the show, he decided to hang up Finn's famous black glasses…
So, Finn is no more!
"I know! What we were trying to go for was a big shock and a big twist. It's been very hard to keep it a secret, but hopefully it's gone in the show's favour and will cause maximum impact."
Was it your decision to leave the show?
"Yes, I spoke to (producer) Iain MacLeod back in late February and told him that at the end of my contract, I'd have been in the show for four years. I'm very proud of the work and the character, but creatively I felt that my time had naturally come to an end and I'd like to play a different character. It was for purely professional reasons. I've not got a bad word to say about Emmerdale; it's fantastic, but I just felt it was time for me personally, as an actor, to move on. And as they say, you should leave whilst you're on a high."
How did you feel when you found out that Finn was going to die?
"It's strange when you decide to leave, because you're in the hands of the writers and producers. When he told me what was going to happen, of course, because the character has been with you for four years and it is a piece of you, you do feel slightly sorry for them - but we're a big ensemble, and whatever's best for the show is the way it's going to go, and I do feel with the shock impact it was going to have, it was the right thing to do. Finn's time in Emmerdale has not always gone in his favour and has been slightly tragic, and this is the most tragic way he could have gone."
Poor Finn met his maker accidentally shot by his mum Emma
What was it like, playing those final scenes?
"I prefer to think about things after they've happened, as opposed to in the moment, so in the moment it was like any other scene - you're on set and you're being a professional and you're getting on with it. But it was in the back of my head, especially when I had ten scenes left, and I'd tick them off – nine scenes left, eight scenes left and so on. It was slightly emotional but I feel feel happy as well as sad, because I look back on it with great pride."
What was it like being part of the dramatic Barton family?
"That's one thing that I'm very grateful for. I didn't realise what it would be like when I joined the show, but I've been very fortunate to be part of the family, not only because every single person in the family I get along with – Nat, Bill, Adam, Mike, Quinny and Gill; it's been fantastic and I've learnt from them all – but there's never been a dull moment within the family. There's always been someone that's had a storyline that we're all bouncing off and involved with. So I've been very fortunate to be very busy for four years; it's never felt like I've dipped out then gone back in; I've always been there with something to do."
Do you have a favourite storyline?
"You look back on it year by year, so I've got four sections. I really enjoyed the first part of when I came in, which was when I worked in the B and B with Val and Eric, and we did a lot of comedy scenes. I think in those scenes, the writers and myself got to know the character a lot, and I think the character's development stemmed a lot from there; he picked up a lot of his attributes from those first few months with them. I also think of the big story when he went to find his mother and Gill came into the show; that was a big one for Finn, and obviously the helicopter crash and then the big crash in Super Soap Week last year."
Has it been difficult to keep your departure a secret?
"Very difficult, especially because of the magnitude of everything. There's obviously some people that had to know. I'm very close with people like Mike, Anthony and Gill, so I did tell them right from the start, and obviously close friends and family. I'm really sorry that I've not been able to tell people and if I've told anyone a white lie, it's only because I was trying to do my job!"
What's next for you?
"I'm back auditioning but there's nothing set in stone. I've been in discussions with my agent. I've tried not to do a panto this year and see if anything else will come up, but we'll have to wait and see. The exciting thing is that anything is a possibility. But I'll still miss Emmerdale very much."
Did you take a souvenir from the soap?
"Finn has got three pairs of glasses – one for the studios, one for the village and one for stunt episodes, and after my final scene I took the stunt pair home. If I ever miss the character too much, I can just look in the mirror and bob them on!"
Alison Slade has over 20 years of experience as a TV journalist and has spent the vast majority of that time as Soap Editor of TV Times magazine.
She is passionate about the ability of soaps to change the world by presenting important, issue-based stories about real people in a relatable way.
There are few soap actors that she hasn't interviewed over the years, and her expertise in the genre means she has been called upon as a judge numerous times for The British Soap Awards and the BAFTA TV Awards.
When she is not writing about soaps, watching soaps, or interviewing people who are in soaps, she loves going to the theatre, taking a long walk or pottering about at home, obsessing over Farrow and Ball paint.
Get the latest updates, reviews and unmissable series to watch and more!
Thank you for signing up to Whattowatch. You will receive a verification email shortly.
There was a problem. Please refresh the page and try again.