'Laurel's wedding is beautiful – but has a tragic twist,' says Emmerdale's Charlotte Bellamy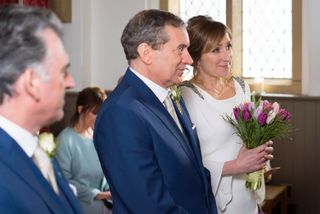 There's trouble and strife as Laurel again prepares to become Ashley's wife, Emmerdale's Charlotte Bellamy (opens in new tab) reveals to Soaplife…
How is Laurel feeling about the day?
"She's happy. She knows things will be tough, but their wedding is the light at the end of the tunnel. It's something really positive for her to cling to. They have a lot of history together and getting married now seems right. She wants everything to be perfect."
So why is she keeping her pregnancy secret?
"She wants to make sure that everything is okay. She also doesn't want her dad, Doug [Duncan Preston (opens in new tab)], to find out because she knows he'll worry and think she's taking on too much."
He's definitely against the wedding…
"Yes. He makes it clear he isn't happy about it. He avoids Laurel and Ashley [John Middleton (opens in new tab)] and he doesn't even bother showing up to the wedding rehearsal. Laurel sort of understands he's only doing it because he cares about her. But when he admits that he thinks their wedding isn't a good idea, she tells him, 'If you can't support me, I don't want you there!'."
How does he change her mind?
"Doug comes along to her hen do to try to make it up with her, but she pushes him out. He ends up reading his speech about her through the letterbox and she melts because it's so heartfelt and lovely."
Then Harriet guesses Laurel's pregnant, doesn't she?
"Yes and Laurel's thrown. She feels she has to justify why they're keeping the baby and she says the child is like a little miracle. She still feels kind of awkward with Harriet."
So why is Harriet marrying them?
"On the hen night, the male vicar gets so drunk with the girls that he can't get out of bed the next day and Harriet [Katherine Dow-Blyton (opens in new tab)] has to take over. Laurel doesn't mind too much as she's only thinking about Ashley."
How does the wedding go?
"It's the most perfect, beautiful and wonderful wedding, but there's a traumatic twist. We're going to really show how living with dementia can be shocking, disruptive, frightening and disorientating. It's the simple things you don't even think about if you're living with somebody with the condition."
Watch the events leading up to Ashley and Laurel's big day in Emmerdale (opens in new tab) from Monday 14 March on ITV.
Thank you for signing up to Whattowatch. You will receive a verification email shortly.
There was a problem. Please refresh the page and try again.