Emmerdale's Charlotte Bellamy: 'Laurel Thomas is about to be busted kissing Brenda's man Bob!'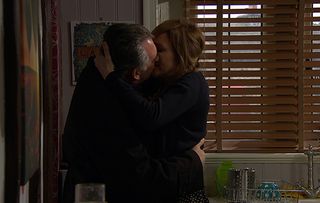 Emmerdale actress Charlotte Bellamy has revealed that Laurel Thomas' sordid secret could be outed if Brenda Walker catches her with Bob.
Widow Laurel Thomas has done her best to keep her night of passion with the nearly married Bob Hope strictly under wraps but they risk getting caught out by Brenda having a passionate snog!
What's the story?
Bob Hope and Laurel Thomas's one-night-stand and their growing feelings for one another have taken us all by surprise! Bob's made a song and dance about getting married to Brenda Walker but he can't get over Laurel.
After Bob gets a shock and thinks Laurel's been killed in a car accident he can't hold back any longer and moves in for a passionate kiss. But it looks like Brenda's about to walk in on them.
Emmerdale actress Charlotte Bellamy reveals what happens next…
What's happening in Emmerdale? See the latest soap storylines
Soaplife's interview with Charlotte Bellamy
Soaplife: Why has Laurel fallen for Bob?
Charlotte Bellamy: "He's a breath of fresh air for her. After being a carer to Ashley Thomas for so long, it's nice to spend time with someone who makes her laugh and who has the energy that Bob has. It brings her to life and it makes her feel good about herself. It's been a long time since she's felt like that."
S: Did she fancy him before they slept together?
CB: "No, she didn't see him in that way. It was a kind of impulsive thing where they were finding comfort in each other. She's desperately tried to put it to one side, but it's difficult when that person lives opposite you."
S: What about Brenda?
CB: "She feels terrible about betraying Brenda. She's a good person, a mother and a selfless woman. She hasn't chosen this path on purpose. In soap, you have to keep twisting and turning a character or else it gets boring. After being this Florence Nightingale for so long, you need to spice it up a bit."
S: What happens when Ashley's window is broken?
CB: "Laurel's upset about it. The new vicar thinks it's crass and gaudy, but it means so much to her. Bob comes to her rescue. He cares very much about how she feels and she's becoming increasingly important to him. It wasn't just a one-night stand between them."
S: Tell us about the moment Bob says he loves Laurel?
CB: "Jimmy King accidentally reverses his car into Laurel and she breaks her arm. Bob mistakenly thinks she's been killed. It makes him realise how much he cares and he goes to her house to express how he's feeling. She feels the same and it's fireworks. They kiss, but what they don't know is that Brenda is walking up the path."
S: Does Laurel want to be with Bob?
CB: "She says she doesn't want to break up a family and she means that wholeheartedly."
S: Could they be good together?
CB: "Yes but when you've been in a couple like she was with Ashley, it's sometimes hard to see your character with somebody else. The audience will tell us if they think it has real potential."
S: What will Ashley actor John Middleton think?!
CB: "I hear he approves. He's probably pleased I am not with a 25-year-old hunk! I'm obviously not saying that Tony is not a hunk either! But Bob's a lovely character who's loved by the public, so John would think I was in safe hands."
S: What advice would you give Laurel?
CB: "Don't do it!"
Emmerdale, ITV
Get the latest updates, reviews and unmissable series to watch and more!
Thank you for signing up to Whattowatch. You will receive a verification email shortly.
There was a problem. Please refresh the page and try again.